Staff Spotlight: Meet Katie Meyer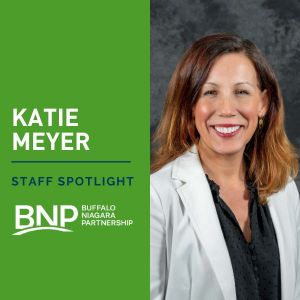 We are pleased to welcome Katie Meyer, Manager, Talent Programs, as our latest Staff Spotlight.
As the project manager for Employ Talent, Katie coordinates the recruitment and skill building work done by our partner The Service Collaborative to directly channel prospects to BNP members in need of trained talent.
Learn a little bit more about Katie in this brief Q&A. 
Q: What is your background in/what type of work were you in before the BNP? 
A: Before coming to the BNP, I worked at The Buffalo News in the executive offices for 8+ years. I supported the president and managed various 'special projects', and was also involved in planning and running events. More recently, I worked at The Community Foundation for Greater Buffalo, where I assisted leadership in the Community Impact group and served as a liaison for the Youth Employment Coalition, coordinating communication and organization between various community partners to advance their initiatives. 
Q: How did your past experience prepare you for your current role at BNP?  
A: In an unexpected way, my background was the perfect preparation for a role on the Workforce team at the BNP – my time at The Buffalo News gave me up-close dealings with leading businesses in WNY and an understanding of their dynamics within our community. At the Community Foundation, I was immersed in interactions and partnerships with a vast network of non-profits and mission driven organizations – a whole different side of the Buffalo ecosystem. Collaboration between these two sides will be at the center of my Employ Talent work at the BNP – creating a win-win for businesses seeking talent and residents seeking family sustaining employment.
Q: What inspired you to join the BNP team?
A: My husband and I are both from WNY, but met in Boston, MA, where we each attended college. When we returned to the area after being away for 10+ years, we were so encouraged by the small glimmers of revitalization. Canalside was a grassy area with Adirondack chairs. There were a few neat breweries and restaurants popping up. In the 20+ years we've been back, watching Buffalo continue to grow and reinvent itself has been thrilling – the BNP is one of the organizations at the center of continuing that progress, so it's a privilege to be part of that.

Q: Tell us a little-known fact about yourself.
A: I live in the oldest house in East Aurora – built in 1807, it was scheduled for demolition in the 1970's, but then moved (moved!) from it's original location and re-settled in the Village where we live today. 
Q: What do you like to do for fun?
A: Zip up to Boston and visit my oldest son, who now attends college there -  eat oysters, pop in all my old haunts. 
Q: Best Buffalo Hidden Gem?
A: Silo City. Hidden in plain sight I guess, but truly awe inspiring to tramp around the 'ruins' and think about Buffalo's amazing past.
Q: What is your favorite part about living in the Buffalo area?  
A: It's a cliché, but Buffalo is a great place to raise a family. The cold and the Bills make you strong. There is culture and art and architecture galore - also natural beauty and endless history to explore. The pride people have in this city – you can't break us. Buffalo creates great people. 
Q: What do you like best about a hybrid work schedule?  
A: Having a chance to interact in person with colleagues regularly, but also be more present in daily family life – a quick hello after school gets out, being home to cook dinner, being able to go for a morning run in actual daylight and still make it to my desk on time – the balance is priceless!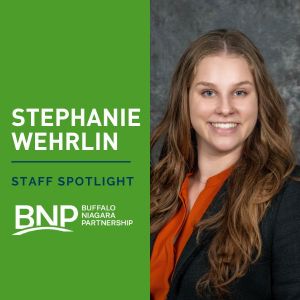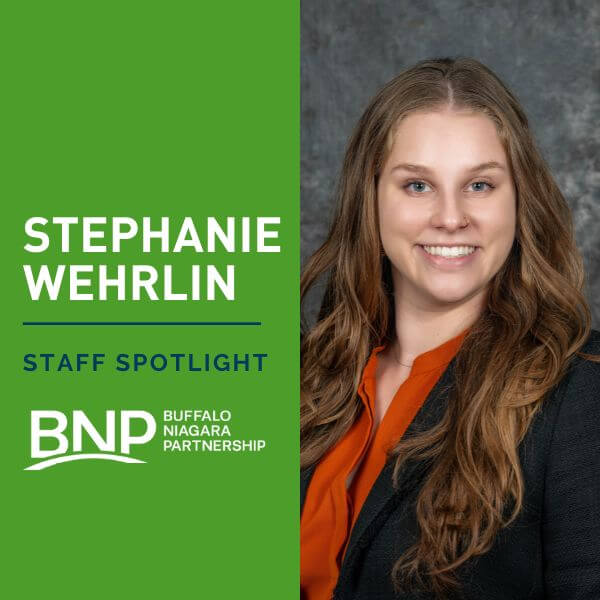 We are pleased to introduce Stephanie Wehrlin, BNP's Assistant Event and Program Manager as our latest Staff Spotlight.
Stephanie has a specific focus on our Young Professional division, BN360. She creates an engaging platform for young professionals in the Buffalo Niagara region to connect, collaborate, learn, and be empowered.
Learn a little bit more about Stephanie in this brief Q&A.