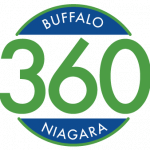 Propel your career to the next level!
Expand your network and get connected to fellow young professionals, top businesses, government officials and community leaders.
Attend programs and events designed to help you develop personally and professionally. Learn the fundamentals of business leadership.
Be prepared to impact your place of employment and community. Make a difference in the lives of others.
Exclusive Membership Benefits Include
Exclusive, free access to 15+ events throughout the season
 Invitations and Member pricing for all Buffalo Niagara Partnership events
 Opportunities for growth and development
 Access to respected leaders, other YPs and companies in the region
$50
If your employer is a Buffalo Niagara Partnership member
$80
If your employer is not a Buffalo Niagara Partnership member
Is your company a corporate Member of BN360?  Check here.