Staff Spotlight: Meet Stephanie Wehrlin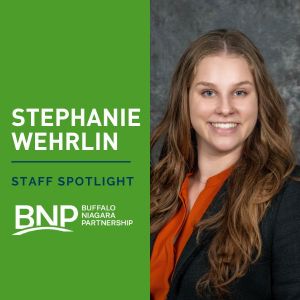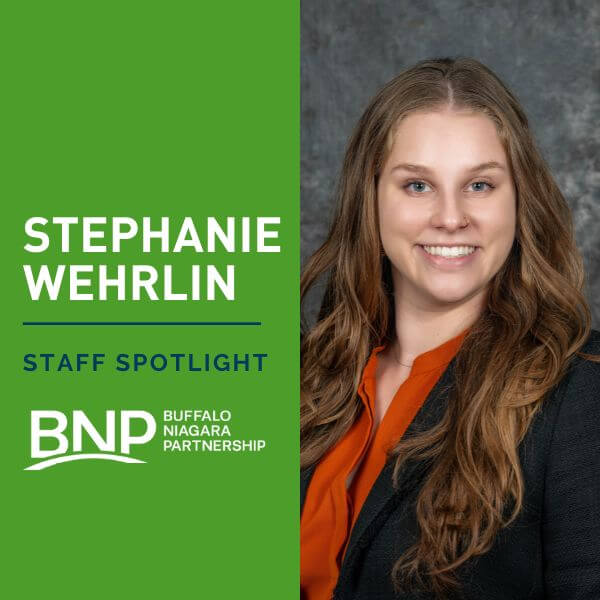 We are pleased to introduce Stephanie Wehrlin, BNP's Assistant Event and Program Manager as our latest Staff Spotlight.
Stephanie has a specific focus on our Young Professional division, BN360. She creates an engaging platform for young professionals in the Buffalo Niagara region to connect, collaborate, learn, and be empowered.
Learn a little bit more about Stephanie in this brief Q&A. 
Q: What is your background in/what type of work were you in before the Partnership?
A: I was working in the service industry with museum institutions and in conference/event planning with a decisive level of involvement, prior to coming to the Partnership
Q: How did your past experience prepare you for your current role at the Partnership?
A: I'm very fortunate to be able to demonstrate my knowledge base in its fullest capacity as the Assistant Event and Program Manager. My direct experience with networking at conferences, event organizations, and noteworthy educational seminars has vastly added to my contributions here at BNP.
Q: Tell us a little-known fact about yourself.
A: I love connecting with people while traveling so while I majored in International Business, I also have a BA for Spanish. My favorite book is Niebla by Miguel de Unamuno (not Stephen King's).
Q:  What do you like to do for fun.
A: My passions are centered around art, culture, and connection. I love museums, bar trivia, hot yoga, and trying out new spots around the city.
Q:  Best Buffalo Hidden Gem.
A: I'm not sure how anything can be hidden in Buffalo because I think we're all a very adventurous bunch, however my favorite spots that I think are unique/special; Glen Park, the Darwin Martin House, the West Side Bazaar, and Paloma Exchange.
Q:  What is your favorite part about living in Buffalo?
A: The people! We truly are living in the City of Good Neighbors who come together for our favorite pastimes, and it is such a blessing.
Q:  What are you doing differently post-pandemic that you didn't do before.
A: Since the pandemic I'm being more purposeful about spending time with friends and family. Instead of a passive approach, I'm more intentional with how I'm spending my free time.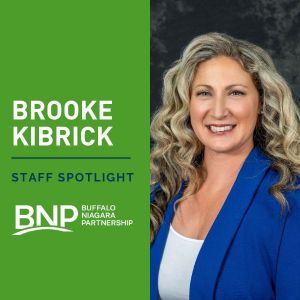 We are pleased to welcome Brooke Kibrick, Director of Events & Programs, as our latest Staff Spotlight.