Staff Spotlight: Meet Brooke Kibrick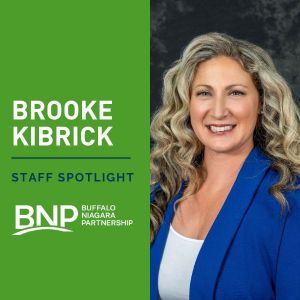 We are pleased to welcome Brooke Kibrick, Director, Events & Programs, as our latest Staff Spotlight.
In her role, Brooke oversees an extensive event portfolio and works to optimize the benefits of the Buffalo Niagara Partnership's programs, including young professional, leadership, and executive development initiatives.
Get to know Brooke in this brief Q&A. 
Q: What is your background in/what type of work were you in before the 

BNP?

 
A: I went to school for Broadcasting Communications and worked in TV news for about 5 years. After realizing I didn't want to move from city to city, I thought about my skill set and what would be a good fit and I made the transition into Marketing and Events. I worked in the private sector for 7 years before realizing I wanted to contribute more to my community and switched to work within the Non-Profit world. I was with VIA (Visually Impaired Advancement for 5 years and prior to coming to BNP I was the Events, Program and Alumni Manager for Leadership Buffalo.  
Q: 

How did your 

past experience

 prepare you for your current role at BNP?

 

 
A: I think having worked in both the private and public spaces helps me understand all the different types of members and customers we get the privilege to work with. And having planned all types of events from volunteer paint projects to an annual gala for 600 people, allows me to be fluid with the variety of things we do at the BNP. 
Q: What inspired you to join the BNP team?
A: The breadth of what BNP does is so great, and the staff is so committed and hardworking to help our community members and businesses- I knew that I wanted to be a part of that!   

Q: Tell us a little-known fact about yourself.
A: When I was in my senior year of college, I had completed all my classes and wanted to get more credits another way, so I applied and got accepted into a semester long internship with The David Letterman Show in NYC. I was in the research department and had to research, read books and magazines, and prepare questions for guests that were coming on the show. It was an amazing experience living in NYC and working for such an iconic show.  
Q: What do you like to do for fun?
A: I love to go antiquing, watch my kids play sports and hang out with my friends and family. My favorite thing is to travel…next summer my husband and I are going to Paris for the 2024 Olympics. We will get to see Soccer, Track & Field, and Beach Volleyball.  
Q:

Best Buffalo Hidden Gem

?
A: I think the best hidden gem in Buffalo is Forest Lawn. It is something that we drive by all the time- and don't realize the rich history it possesses. I recently went on a walking tour and learned so much in 1 hour- and we barely walked more than 5 minutes from the gates. I am looking froward to going through it again very soon! 
Q: What is your favorite part about living in the Buffalo area?  
A: My favorite part about living in Buffalo is that there is always something new happening, something new being built, a new business opening, or a new restaurant to try. My other favorite thing is the people, we are walking ambassadors of Buffalo no matter where we go! 
Q: 

What do you like best about a hybrid work schedule?

 

 
A: Having a hybrid schedule is the perfect balance of being able to collaborate with our team in the office and having time to focus on projects during work from home days. As a mom of three kids, having a hybrid schedule makes life less stressful and for sure helps my mental health!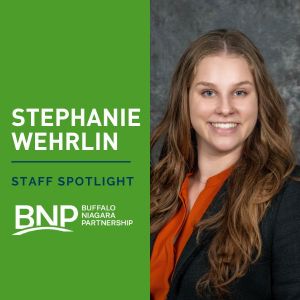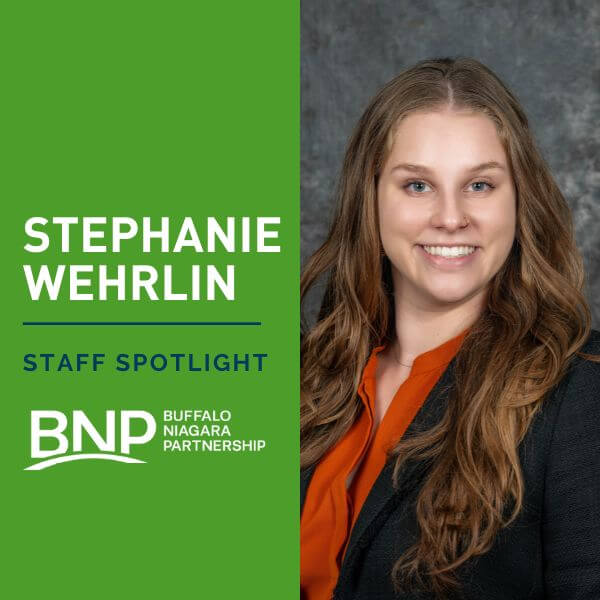 We are pleased to introduce Stephanie Wehrlin, BNP's Assistant Event and Program Manager as our latest Staff Spotlight.
Stephanie has a specific focus on our Young Professional division, BN360. She creates an engaging platform for young professionals in the Buffalo Niagara region to connect, collaborate, learn, and be empowered.
Learn a little bit more about Stephanie in this brief Q&A.