We pride ourselves on being thought leaders and a go-to source for information on issues affecting the region.  Some items you'll find here include:
Perspectives on important issues
Guest blogs from industry experts
Notifications about key political happenings
Updates/recaps on our events
Member achievements and spotlights
Significant news and press announcements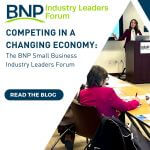 Small business owners are facing constant and complicated challenges, ranging from staffing shortages to rising costs. On May 18, the BNP convened the first Small Business Industry Leaders Forum (ILF) to explore shared strategies and to discuss how the sector can compete in a changing economy and shifting talent market.