It's the promising employee who has to turn down a promotion. The employee who accepts a raise, only to find themselves worse off. The employer desperate to hire who sees offer after offer rejected. These problems are impacting thousands of your neighbors across Buffalo Niagara, and they all have the same hidden cause: the Benefits Cliff.
The Benefits Cliff is when an increase in pay results in a sudden loss of support. Many underemployed workers are stuck in jobs they are overqualified for, or ready to be upskilled — yet stay in their current position due to the threat of the Benefits Cliff. The better pay does not compensate for the resulting sudden loss of their benefits. When this happens, businesses lose out on recruiting or growing talent, employees lose the opportunity to advance their career, and our entire community loses out on hundreds of thousands of taxpayer dollars over the course of a lifetime.
Learn more about the Benefits Cliff through Nia's story.
To overcome these challenges, we must first know where the Benefits Cliff is — and that number is different for every individual. That's why Employ Buffalo Niagara, along with the Federal Reserve Bank of Atlanta, has created this Benefits Cliff Calculator — a free, simple tool that will do the math for you to calculate an individual's Benefits Cliff.
Employees, employers, and workforce entities can plug in current benefits and potential income increases to gain a better understanding of how employees can thrive, businesses can promote their promising talent, and all of our neighbors can be carried toward financial security and independence. The tool will also help the public sector understand the urgent need for policy changes to lessen the impact of the Benefits Cliff moving forward.
Get started with the Employ Buffalo Niagara Benefits Cliff Calculator
From businesses to workforce entities to policymakers, awareness is the critical first step in overcoming the challenges of Benefits Cliffs. We're pleased to provide these free assets, from explainer videos to ready-to-post social posts, that you can display at your workplace, share on your channels, and send to all your contacts.
Spread the word with our free Communications Kit!
Dig deeper into the Benefits Cliff with these resources.
Have additional questions about the Benefits Cliff Calculator or want to learn more about Employ programs or initiatives?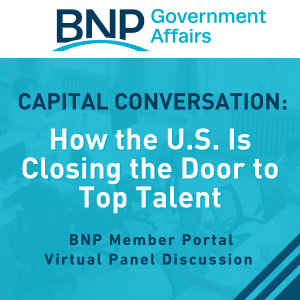 The BNP organized a Capital Conversations event as part of our Government Affairs series to examine the workings of the H-1B program and explore potential reforms that could strengthen our regional economy.
Read More