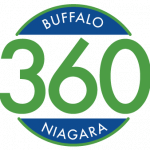 The BNP has always been passionate about regional workforce development and talent retention initiatives. BN360 is a program dedicated to Buffalo Niagara's young professionals that focuses on connecting, developing, and empowering.
What sets BN360 apart?
BN360 aims to create an inclusive and collaborative network of resources that can empower our members to achieve their goals for professional growth and success. Through a variety of programming and insight, BN360 provides employers with an engaged and competitive workforce and creates a critical mass of talented young professionals that are dedicated to propelling Buffalo Niagara into the future.
BN360 is proud to provide its members with:
Young Professionals Are Important to the Buffalo Niagara Business Community.
We understand that there are specific concerns and issues that are unique to today's young professionals. This is why we have created social media dedicated to our BN360 members and peers to represent their voice. This is a great resource for connecting, learning, and sharing about the working environment for the region's YPs.
Thank You to Our Sponsors