Staff Spotlight: Meet Kenya Hobbs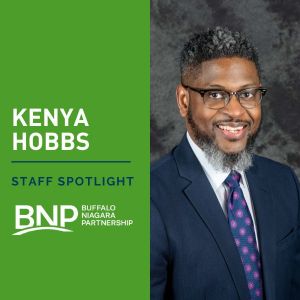 We are pleased to welcome our new Director, Community Engagement & Equity Initiatives, Kenya Hobbs as our latest Staff Spotlight.
Kenya's role centers on advancing BNP's Employ Buffalo Niagara initiatives, working collaboratively with industry leaders and experts to coordinate the WNY workforce ecosystem. He is also involved in deploying and managing the BNP's current suite of DEI offerings, as well as helping develop new programs and services that assist employers in building equitable workplaces.
Learn a little bit more about Kenya in this brief Q&A. 
Q: What is your background in/what type of work were you in before the BNP? 
A: Prior to joining the BNP, I worked in higher education as a Vice President in Student Development and Diversity, Equity, and Inclusion. Additionally, I've been privileged to work in local government, workforce development, community not-for-profits, and regional banking. 
Q: How did your past experience prepare you for your current role at BNP?  
A: My past experience has equipped me with the perfect set of tools needed to operate effectively in this current role. I have been fortunate to work in people and community-centered roles in different industries that shared a common theme of helping to develop and advance people and initiatives that would better our region in some capacity. 
Q: Tell us a little-known fact about yourself.
A: I was inducted into my high school's Sports Hall of Fame and was a member of the history-making first Buffalo Public Schools cross country team to earn a spot in the NYSPHSAA State Finals. Go Bennett Tigers! Optima Futura! 
Q: What do you like to do for fun?
A: I love reading non-fiction books on leadership development, diversity, equity, inclusion and belonging (DEIB), historical biographies, and management. 
Q: What is your favorite part about living in Buffalo?  
A: I love the food in Buffalo! We have so many options to choose from it's just overwhelming all the tasty treats that you can find throughout the region. 
Q: What are you doing differently post-pandemic that you didn't do before?  
A: I am being intentional about reminding myself and others of the wisdom in the African proverb that says, "If you think you are too small to make a difference, you haven't spent the night with a mosquito!"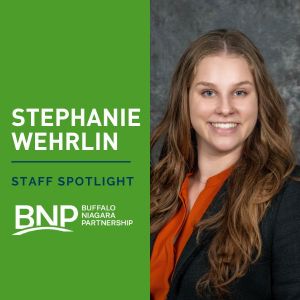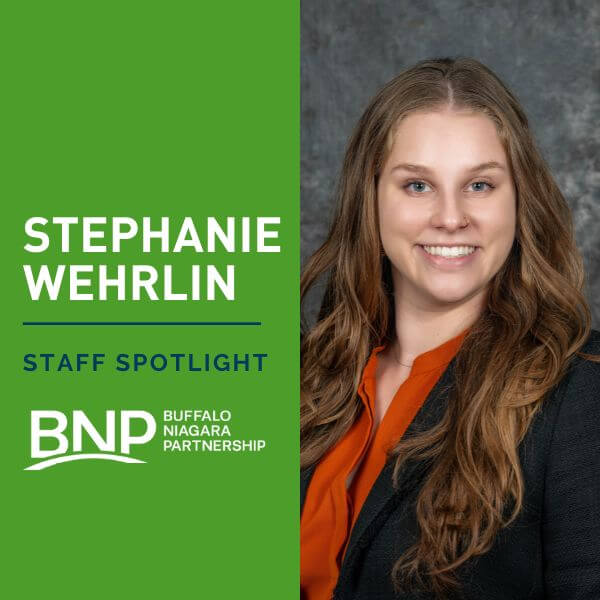 We are pleased to introduce Stephanie Wehrlin, BNP's Assistant Event and Program Manager as our latest Staff Spotlight.
Stephanie has a specific focus on our Young Professional division, BN360. She creates an engaging platform for young professionals in the Buffalo Niagara region to connect, collaborate, learn, and be empowered.
Learn a little bit more about Stephanie in this brief Q&A.