2022 D&I Symposium: Meet John F. Somers, Panelist
The BNP is pleased to welcome John Somers is President and CEO of Harmac Medical Products, Inc., as a panelist at our 2022 D&I Symposium: DEI at Work.
We will be helping you get to know each presenter, panelist, and moderator in the weeks ahead, leading up to the 5th Annual D&I Symposium on June 16th – get your tickets here.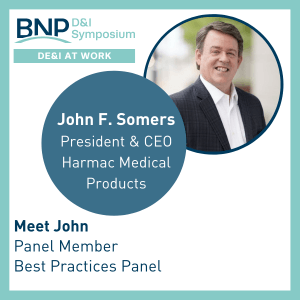 John Somers is President and CEO of Harmac Medical Products, Inc., a contract engineering and manufacturing company of single-use medical devices that has served the global market place for over 40 years. The privately held company headquartered on Bailey Avenue in Buffalo's East Side provides innovative technical solutions and manufacturing services for companies of all sizes, including leading Fortune 500 medical technology companies and high-potential start-ups. Somers and his executive team have overseen Harmac's growth, including additional manufacturing locations in Ireland and Mexico to complement its U.S. operations. Today, with roughly 1,200 employees worldwide, Harmac has received numerous awards for operations excellence, sustainability and community investment.
Under John's leadership, Harmac created the Bailey Green Initiative, a community-led partnership to improve and support the Bailey-Genesee neighborhood around its east side headquarters, where roughly 25 percent of Harmac's 400 U.S. employees reside. This unique, award-winning public-private partnership is focused on stabilizing and transforming a neighborhood that has faced considerable challenges and decades of neglect. With over 40 partners now joining Harmac's efforts, this vision of transforming the neighborhood is becoming a reality.
In 2021, John received the Lifetime Achievement in Manufacturing Award from Buffalo Business First. In 2018, he received the Athlone Institute of Technology's Distinguished Fellowship award – its greatest academic honor – for outstanding leadership, generosity and significant contributions to the Country of Ireland and its County of Roscommon, and the positive impact he's had on the lives of employees and communities worldwide. He was also named the 2019 Canisius College Business Executive of the Year and the 2019 Outstanding Executive of the Year by the Buffalo Niagara Chapter of the Public Relations Society of America (PRSA).
John is a founding board member and the current chairman of Endeavor WNY, part of Endeavor Global, Inc., an international not-for-profit which supports high-impact entrepreneurs and their companies from nearly 40 offices around the world. He also serves on the boards of the Community Foundation for Greater Buffalo, Buffalo Renaissance Foundation and Viridi Parente. He holds a bachelor's degree from Williams College and an MBA from Boston University, and he completed the President's Program in Leadership at Harvard Business School.
2022 D&I Symposium Best Practice Panel
This panel will provide insight into efforts organizations that leading organizations in our region have taken taking to produce the greatest steps forward in creating an environment of diversity, equity and inclusion. This discussion will share insights from D&I leaders who are leading the charge in our geographical area, and steps to take to make a "real" difference.
Moderator:
Panelists:
Attend the 2022 D&I Symposium
Our 5th Annual Diversity & Inclusion Symposium will feature national experts on D&I sharing their knowledge on subjects such as building an inclusive culture, and the best practices, cultural assessments, and dimensions of diversity.
KEYNOTE: Melissa Donaldson, Chief Diversity Officer, Wintrust.
This event will feature workshops and break-out sessions with actionable next steps for attendees to take away.
Thursday, June 16, 2022
9.30 a.m. to 4:00 p.m. EDT


Register to Attend Here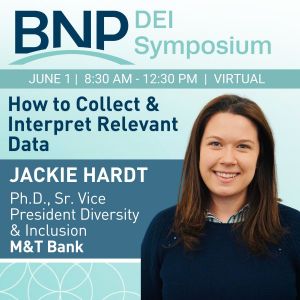 The BNP is pleased to welcome Jackie Hardt, Ph.D., Sr. Vice President Diversity & Inclusion, M&T Bank, as a speaker for the 2023 DEI Symposium. We will be helping you get to know each presenter, panelist, and moderator in the weeks ahead, leading up to the June 1st event.