2023 DEI Symposium: Meet Rachel Parrino, Speaker
The BNP is pleased to welcome Rachel Parrino, CDP, Founder, Parrino Consulting, as a speaker for the 2023 DEI Symposium. as a speaker for the 2023 DEI Symposium.
We will be helping you get to know each presenter, panelist, and moderator in the weeks ahead, leading up to the 6th Annual DEI Symposium on June 1st – get your tickets here.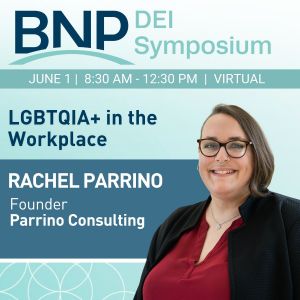 Presentation Highlights (what can the audience expect to learn or take away?):
In this session, we will define terminology & concepts, clarify differences between sex & gender, explore complexities of gender-expansive identities & sexuality, and identify ways to create welcoming & affirming spaces.
D&I Resources, Recommendations, & Inspiration
Book: Beyond the Gender Binary by Alok Vaid-Menon (also on socials)
Other Media (podcast, show, social, publication): www.practicewithpronouns.com Pride Center of WNY
Advice to someone starting or continuing on their D&I journey: Understand your privilege. Listen and do your homework. Speak up, but never over. Admit when you make a mistake, then make amends, and learn to do better. Remember that ally is a verb - you have to do the work.
__________
More about Rachel:
Rachel Parrino, CDP (she/her), is the founder of Parrino Consulting, through which she consults on diversity, equity, inclusion, and belonging with a specialty in LGBTQ+ issues. She is also a Diversity, Equity, and Inclusion Administrator at Roswell Park Comprehensive Cancer Center and holds Certified Diversity Professional credentials through the Society for Diversity. Previously, she oversaw engagement and education with the Pride Center of Western New York.
Rachel is a native Western New Yorker and a graduate of the University of Buffalo with a Bachelor of Arts degree in psychology. While attending UB, she became involved with the Lesbian, Gay, Bisexual, Transgender Alliance (LGBTA), where she held the presidency for two years. She began educational and supportive programming and became a founding student representative of the university's Diversity Committee and was named to the list of 'Top Ten Leaders at UB'. She was honored with the Trailblazer Award as an alumnus. Rachel is also a Georgetown University Fellow after completing the 2018 McCourt School of Public Policy, Center for Juvenile Justice Reform, Executive Certificate in Supporting LGBTQ Youth with the Erie County team.
You can also find her working behind the scenes with the Brazen-Faced Varlets, a local women's theater company, facilitating diversity workshops with the National Federation for Just Communities of Western New York (NFJC of WNY), or at the park with her springer doodle, Maggie.
2023 DEI Symposium Microsession: LGBTQIA+ in the Workplace
Learn how to utilize more inclusive and affirming language addressing employee pronouns and gender identity with tools and resources to enhance the workplace culture.
Presenter: Rachel Parrino, Founder, Parrino Consulting
General
Attend the 2023 DEI Symposium
Our 6th Annual Diversity, Equity, and Inclusion Symposium will feature national experts on D&I sharing their knowledge on subjects such as building an inclusive culture, and the best practices, cultural assessments, and dimensions of diversity.
KEYNOTE: Sandra Quince, Paradigm for Parity CEO, Bank of America Leader on Loan
This event will feature workshops and break-out sessions with actionable next steps for attendees to take away.
Thursday, June 1, 2023
8:30 a.m. to 12:30 p.m. EDT


Register to Attend Here
See Full Event Details & Agenda Here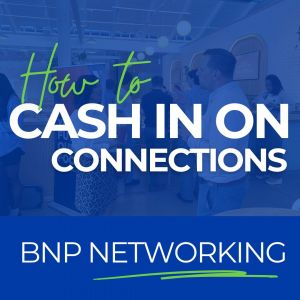 Whether you're an entrepreneur, a seasoned executive, or a budding professional, networking plays a pivotal role in your career growth. At the BNP, we understand the significance of forging meaningful connections, which is why we're excited to share the numerous benefits of networking with our members.