2023 DEI Symposium: Meet Thaddeus Dunn, Panelist
The BNP is pleased to welcome Thaddeus B. Dunn, Founder & CEO, Right Fit Recruiting LLC, as a panelist for the 2023 DEI Symposium.
We will be helping you get to know each presenter, panelist, and moderator in the weeks ahead, leading up to the 6th Annual D&I Symposium on June 1st – get your tickets here.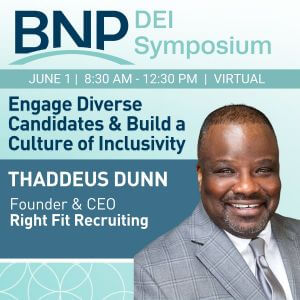 Presentation Highlights (what can the audience expect to learn or take away?):
History of workforce discrimination. Why companies should hire diverse candidates. Why Executive Leaders should be held accountable. How to attract and retain diverse candidates.
D&I Resources, Recommendations, & Inspiration
More About Thaddeus
Thaddeus Dunn is originally from New York City. He has supported clients across the nation delivering high-impact recruiting, training, and development programs to exempt and non-exempt employees and organizations. As a certified Minority Business Enterprise business, Thaddeus has spent a considerable amount of time over the last 20 years developing, aspiring talent as they position themselves for higher levels of responsibility and accountability.
Areas of Expertise:
A component of his experience and his current practice includes Diversity, Inclusion, and Equality (DEI) as well as the Recruitment of candidates from under-represented backgrounds. He has 20 years of Human Resources experience. He has learned how to "Humanize" the Recruiting Process by ensuring that candidate slates are intentional and purposeful.
Thaddeus' work and consulting experience has provided him an opportunity to specialize in driving large-scale organizational change and the development of short- and long-term business strategies to advance company goals within the Human Resources industry. His work involves helping leaders understand the challenges and complexities of inclusion and transformational change to achieve tangible business transformation. Thaddeus has been appointed to the Board of the National Association of African Americans in Human Resources representing Buffalo, New York, and the Canisius College Physician Assistant Student Selection and Program Committee.
He holds a Bachelor's Degree in Mass Communications from Canisius College, in Buffalo, New York, and currently lives in Buffalo, New York. He is also the Sr. Faculty Talent /Retention Advisor for Morehouse School of Medicine located in Atlanta, Georgia.
Contact:
Thaddeus B. Dunn | Founder Right Fit Recruiting, LLC
Email: thaddeus@rightfitrecruiting.net
Morehouse School of Medicine Sr. Faculty Talent/Retention Advisor tdunn@msm.edu
2023 DEI Symposium Microsession: Hiring and Retention Panel: Engage Diverse Candidates and Build a Culture of Inclusivity
There is no greater need in our community than recruiting and retaining quality employees for the benefit of businesses and the local workforce. Learn how to engage diverse candidates and build a culture of inclusivity.
Moderator: Kenya Hobbs, Director, Community Engagement & Equity Initiatives, Buffalo Niagara Partnership
Panelists:
Kathryn Alterio, Senior VP HR, People Inc.
Thaddeus Dunn, Founder & CEO, Right Fit Recruiting
Beth Sullivan, MBA, PHR, SHRM-CP · Director of Human Resources at United Way of Buffalo & Erie County
Advanced
Attend the 2023 DEI Symposium
Our 6th Annual Diversity, Equity, and Inclusion Symposium will feature local and national experts sharing their knowledge on hiring and retention, inclusive leadership, the importance of DEI data, and more.
KEYNOTE: Sandra Quince, Paradigm for Parity CEO, Bank of America Leader on Loan
This event will feature workshops and break-out sessions with actionable next steps for attendees to take away.
Thursday, June 1, 2023
8:30 a.m. to 12:30 p.m. EDT


Register to Attend Here
See Full Event Details & Agenda Here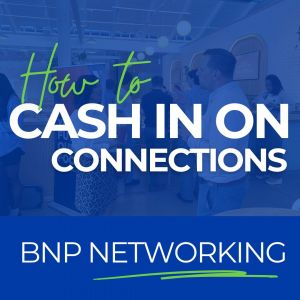 Whether you're an entrepreneur, a seasoned executive, or a budding professional, networking plays a pivotal role in your career growth. At the BNP, we understand the significance of forging meaningful connections, which is why we're excited to share the numerous benefits of networking with our members.