2023 DEI Symposium: Meet Jackie Hardt, Speaker
The BNP is pleased to welcome Dr. Jackie Hardt, SVP,  Sr. DEI Analytics Manager, as a speaker for the 2023 DEI Symposium.
We will be helping you get to know each presenter, panelist, and moderator in the weeks ahead, leading up to the 6th Annual D&I Symposium on June 1st – get your tickets here.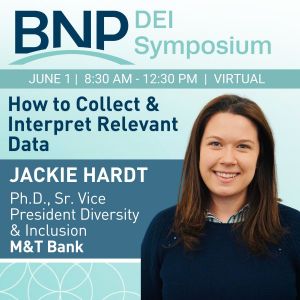 More about Jackie:
Jackie Hardt is a researcher using data analysis and behavioral modeling to drive more equitable outcomes in Diversity, Equity, and Inclusion. She currently serves as the SVP,  Sr. DEI Analytics Manager at M&T Bank where she leads the bank-wide efforts to track progress toward DEI outcomes, use advanced analytics to assess equity in people-centered systems, and designs test and learn interventions to understand how changes can make tangible, positive impacts on the experiences of employees from historically excluded communities. 
 Jackie holds a Bachelor's Degree in Politics from New York University, a Master's Degree in Globalization from Dartmouth College, and a Doctorate from the University at Buffalo in Politics Science. She also serves on the Board of Director's for the King Urban Life Center. 
2023 DEI Symposium Microsession: DEI Data Matters: How to Collect & Interpret Relevant Data
In this session, we will cover the basics of collecting and using data to advance DEI initiatives. By the end of the session, you should be able to assess where your organization is on its DEI data-related maturity model, identify useful tools for all stages of data and analytics and set outcomes, and identify measurement strategies for successfully incorporating data into your DEI work. 
  What challenges have you faced in starting your DEI data-related work? How did you overcome those? 
If we don't have the resources for a full-time data scientist or researcher, how do we approach doing this work?

 
Presenter:  Dr. Jackie Hardt, SVP,  Sr. DEI Analytics Manager
Advanced
Attend the 2023 DEI Symposium
Our 6th Annual Diversity, Equity, and Inclusion Symposium will feature national experts on D&I sharing their knowledge on subjects such as building an inclusive culture, and the best practices, cultural assessments, and dimensions of diversity.
KEYNOTE: Sandra Quince, Paradigm for Parity CEO, Bank of America Leader on Loan
This event will feature workshops and break-out sessions with actionable next steps for attendees to take away.
Thursday, June 1, 2023
8:30 a.m. to 12:30 p.m. EDT


Register to Attend Here
See Full Event Details & Agenda Here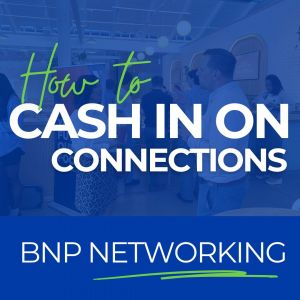 Whether you're an entrepreneur, a seasoned executive, or a budding professional, networking plays a pivotal role in your career growth. At the BNP, we understand the significance of forging meaningful connections, which is why we're excited to share the numerous benefits of networking with our members.