11.23.21 COVID-19 Bulletin: Erie DOH Releases Details on New Mask Mandates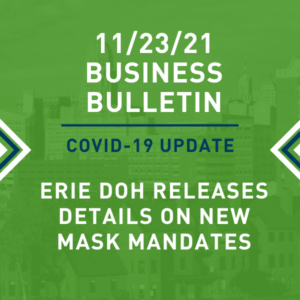 Erie County Health Commissioner Gale Burstein just released a detailed order with new pandemic protocols, clarifying the County Executive's announcement yesterday. 
Anyone over two (2) must wear a mask in all indoor public settings, regardless of their vaccination status. Any indoor employees must wear a mask when interacting with patrons. Anyone using public transit or other for-hire vehicles must wear a mask.  
The most notable detail: businesses that mandate proof of vaccination for entry do not have to force patrons to mask. So, businesses can be exempt from the mask mandate if they choose to mandate vaccination.  
Yesterday, County Executive Poloncarz pledged to mandate vaccination for entry into public places if the mask mandate fails to improve case and hospitalization numbers.  
The BNP will continue to keep you informed as this situation unfolds.  
The full text of the ECDOH order can be found here. Poloncarz's announcement is summarized here.  
The Paycheck Protection Program (PPP) was a lifeline to many companies faced with the existential threat of an unknown pandemic.  But the prospect of "free money" by loan forgiveness comes with ever-evolving strings – including the possibility of an audit and scrutiny by federal agencies with the jurisdiction and political will to investigate borrowers' eligibility and use of funds.
The new mandate was issued as part of an executive order by Governor Cuomo and allows people to test-out of quarantine.