11.23.21 COVID-19 Bulletin: Erie DOH Releases Details on New Mask Mandates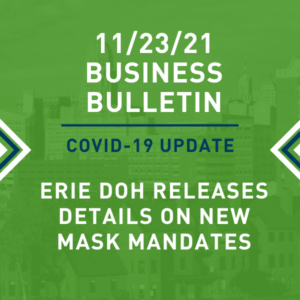 Erie County Health Commissioner Gale Burstein just released a detailed order with new pandemic protocols, clarifying the County Executive's announcement yesterday. 
Anyone over two (2) must wear a mask in all indoor public settings, regardless of their vaccination status. Any indoor employees must wear a mask when interacting with patrons. Anyone using public transit or other for-hire vehicles must wear a mask.  
The most notable detail: businesses that mandate proof of vaccination for entry do not have to force patrons to mask. So, businesses can be exempt from the mask mandate if they choose to mandate vaccination.  
Yesterday, County Executive Poloncarz pledged to mandate vaccination for entry into public places if the mask mandate fails to improve case and hospitalization numbers.  
The BNP will continue to keep you informed as this situation unfolds.  
The full text of the ECDOH order can be found here. Poloncarz's announcement is summarized here.  
President Trump and Congress have passed a massive $2 trillion stimulus package in the wake of the COVID-19 pandemic that is devastating large segments of the United States economy.
The Partnership organized a webisode with the U.S. Chamber of Commerce to breakdown the stimulus package and help employers better understand what's included to help your business, your employees, and the Buffalo Niagara economy recover in the long run.
The federal and state governments have passed sweeping paid leave policies for workers impacted by COVID-19, aka the corona virus. In response, the Partnership organized a webisode for local employers on 3/25/20 to provide clarity around these new mandates and to help them prepare to take the necessary steps to protect themselves and their employees. Some questions that were answered included:
The Partnership organized a ZOOM call for our Manufacturing Council members with Phillips Lytle LLP on Friday, 3/20. Craig Bucki, discussed the legal implications of the New York State Executive Order on COVID-19 workforce reduction.