Navigating Shifting Workplace Norms: Panel Discussion
Uncovering and Cultivating Hidden Talent Series: Session 4 – Shifting Workplace Norms
The workplace landscape is evolving at an unprecedented pace, and staying ahead of the curve is crucial for businesses aiming to attract and retain top talent. In the final session of our 4-part Hidden Talent series, we brought together a panel of industry experts to shed light on these critical shifts and provide actionable insights for employers.

Embracing Change for Success
One key takeaway from the discussion was the importance of adaptability. As workplace norms continue to evolve, organizations must be prepared to embrace change. Our panelists emphasized that flexibility and a willingness to innovate are essential components of a successful talent strategy in today's dynamic environment.
The Competitive Edge of Workplace Culture
The way we work today, and more importantly, the way prospective employees expect to work, has undergone a seismic shift. This transformation has sent shockwaves through various industries, sparking a fierce race for talent. It's no exaggeration to say that workplace culture has emerged as the new competitive advantage.
This discussion emphasized the role of a positive, inclusive, and forward-thinking culture in attracting and retaining talent. Our panelists shared practical examples of commitments their organizations have made to workplace culture.
Exploring Workplace Norms
Some workplace norms from a decade ago seem like ancient history today. Consider the radical transformations witnessed in recent years in the following areas:
Hybrid Schedules or Fully Remote Work: As the lines between home and office have blurred in many industries, increased flexibility and work-life balance have become hot topics.
Mental Health Openness: Conversations around mental well-being in the workplace are not only more commonplace, they are expected. At a time when 4 in 10 U.S. employees indicate that their job is negatively impacting their mental health, employers must reevaluate 'business as usual'.
Changing Job Satisfaction Metrics: Salary is no longer the sole driver; connection to a company's mission, company culture, and growth opportunities matter more than ever before. In fact, SHRM continues to report that employees value respect and trust over benefits, pay, or job security.
There's often a delicate balance between how rapidly employers can adapt and what employees or prospects desire. Not all industries and roles can fully embrace these changes, adding another layer of complexity.
If you missed the live event, you can access the full recording to catch up on all the insights and expert opinions shared. Whether you're an HR professional, a business leader, or simply interested in staying updated on workplace trends, this session is a valuable resource.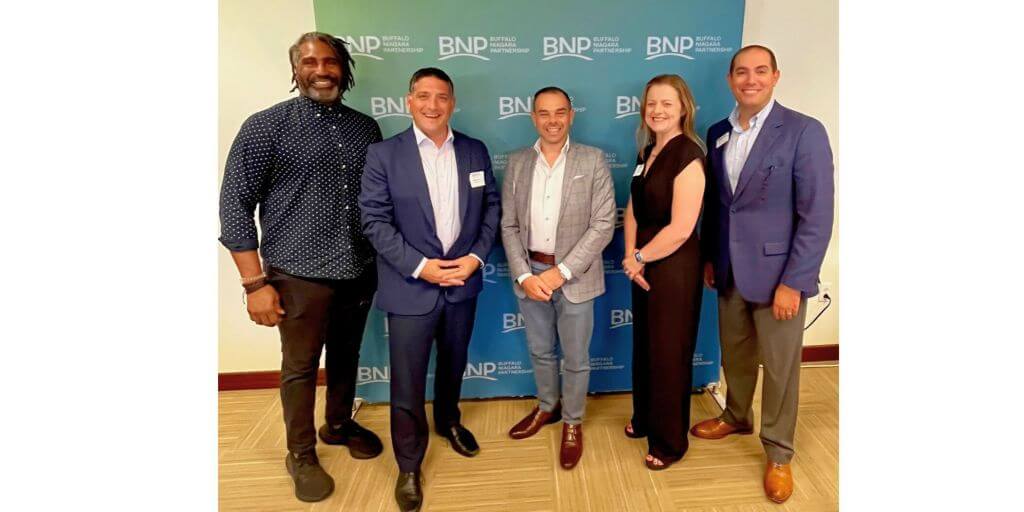 Panelists (L-R): 
Christian Gaddis, Director, Forge Buffalo
Michael DeLuca, SVP, CannonDesign
Peter Petrella, Practice Leader-Executive Search, TalentRise
Kelly Pogore, Corporate Director of Employee Services, Horizon Health Services

Moderated by:

Grant Loomis

, SVP, Buffalo Niagara Partnership

 
BNP members can watch the full series in the member portal:
This series is a part of BNP's Employ Buffalo Niagara, the region's largest employer-led talent initiative. Employ offers a wide array of workforce development tools and programs designed to help break down barriers to employment, upskill low-wage earners, and prepare job seekers to meet evolving corporate expectations. Learn more about Employ and explore how we can partner with you to address your unique needs.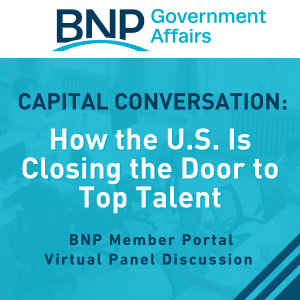 The BNP organized a Capital Conversations event as part of our Government Affairs series to examine the workings of the H-1B program and explore potential reforms that could strengthen our regional economy.