How the U.S. Is Closing the Door to Top Talent
America's broken immigration system is closing the door to the top talent Buffalo Niagara employers need. Many regional employers have an urgent need for high-skill employees to help them grow, innovate, and stay competitive. To meet that need, companies rely on the federal H-1B visa program to secure high-skilled talent.  But the outdated H-1B visa system is failing employers.
The current H-1B visa cap has been in place for three decades. As a result, the program reaches its cap within weeks of opening each year. According to the US Chamber's Immigration Data Center, of the nearly 485,000 H-1B visa applications filed in the spring of 2022, only 85,000 new visas will be granted.
The pain points caused by this chasm were the focal point of conversations at the BNP's Tech Industry Leaders Forum in June. To respond to that need, the BNP organized a Capital Conversations event as part of our Government Affairs series to examine the workings of the H-1B program and explore potential reforms that could strengthen our regional economy.
Perspective on this pressing issue was provided by:
Zabrina Reich, Partner and the Immigration Practice Group Leader at Phillips Lytle
Randy Harris, CEO of Lighthouse Technology Services
Oscar Budde, Associate Vice Provost and Director for Immigration Services at the University at Buffalo
To learn more about how the current high-skilled H-1B visa program is falling far shorter of need and the impact that is having on our economy, you can watch the recording of our event in our Member Portal.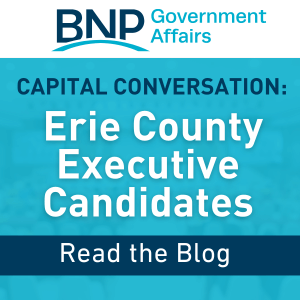 In preparation for the 2023 elections, the BNP hosted an Erie County Executive Candidate Forum. Both candidates for Erie County's highest office – incumbent Mark Poloncarz and challenger Chrissy Casilio – were given 45 minutes to address BNP members in a guided discussion.