We pride ourselves on being thought leaders and a go-to source for information on issues affecting the region.  Some items you'll find here include:
Perspectives on important issues
Guest blogs from industry experts
Notifications about key political happenings
Updates/recaps on our events
Member achievements and spotlights
Significant news and press announcements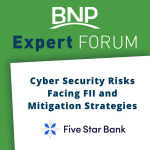 According to IBM's Cost of a Data Breach 2021 report, the average cost of a major cybersecurity incident to a business or organization is more than $4 million.
That's a staggering number, but it puts the importance of information security for businesses and organizations under the spotlight—and attached to blaring sirens and alarms—that this problem deserves.