We pride ourselves on being thought leaders and a go-to source for information on issues affecting the region.  Some items you'll find here include:
Perspectives on important issues
Guest blogs from industry experts
Notifications about key political happenings
Updates/recaps on our events
Member achievements and spotlights
Significant news and press announcements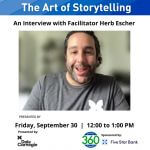 BN360 is proud to present The Art of Storytelling on Friday, September 30th at noon. This virtual webinar will give you the tools to transform the way you connect with people and jump-start your professional development. We sat down with facilitator, Herb Escher, CEO of Dale Carnegie of WNY and the Greater Boston Area to find out why you should attend this event.