Introducing Stephanie Peete, finalist for the 2023 ATHENA Young Professional Leadership Award
For more than 30 years, the Buffalo Niagara Partnership has been honored to produce the ATHENA Awards® to support, develop, and honor women leaders in Western New York.
The BNP is pleased to introduce you to the finalists who have been selected for the 2023 ATHENA honors. This includes the ATHENA Leadership Award®, the ATHENA Young Professional Leadership Award®, and the ATHENA Organizational Award®, which recognizes one for-profit organization and one non-profit organization that inspire women in WNY.
We're highlighting each finalist in the weeks ahead, leading up to the Awards Luncheon. Come back often to read the profiles and you'll learn what it means to be an ATHENA!
Celebrate all of our finalists and see the recipients announced LIVE on March 29, 2023 at the Buffalo Niagara Convention Center.
The Buffalo Niagara Partnership is pleased to introduce you to 1 of 10 finalists in the ATHENA Leadership Award® category - Young Professional
Meet ATHENA Young Professional Leadership Award® Finalist: Stephanie Peete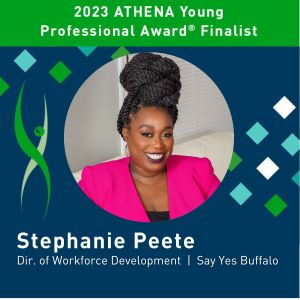 As the Director of Workforce Development, Stephanie Peete leads all Say Yes Buffalo workforce programming including paid internships and modern youth apprenticeships. She has been with Say Yes for over eight years and has over ten years of experience in nonprofit leadership and child welfare case management. 
Stephanie works strategically and collaboratively at the intersection of workforce development and racial equity, creating talent pipelines for Black and brown young professionals and advocating for inclusive workplaces in the Greater Buffalo region.
She is also co-owner of Second Chapter Bookstore, a Black-owned small business in Buffalo created to cultivate joy, community, and shared learning while centering the Black experience. Stephanie is a Say Yes Buffalo mentor, board vice president for Theatre of Youth, an advisory board member for Women United, and co-chair of the Women of Color Summit. 
We asked Stephanie a series of questions to get to know her better.
First Job  
Stephanie's first job was as a summer camp counselor at the George K. Arthur Community Center. 
Career Highlights 
In 2021 Stephanie received the Liberty Bell Award from the Bar Association of Erie County and in 2022 she was a Buffalo Business First IDEA Award recipient. 
Best Piece of Advice Given Regarding Her Career   
"Someone has to go first." - David Rust 
Advice to Give to a Woman Just Starting in the Workplace. 
Take up space and build community. You'll need wise, supportive, and bold women in your professional and personal networks who will love on you, give you advice, be your sounding board, loop you into opportunities, and hold you accountable. 
About Being an Athena Finalist 
"I consider myself extremely fortunate to have so much passion for what I do and it's humbling to be recognized for it at this level." 
On Buffalo Niagara 
"Aside from my family living here, Buffalo Niagara's culinary and theatre scenes are fantastic. There's so much to do here." 
Favorite Spot in Buffalo.  
I've always been a fan of Delaware Park 
Added Insights 
Guilty Pleasure:

Really nice handbags

 

Superpower:

I invite people to have difficult conversations about race/ism, systemic inequity, and anti-Blackness in a way that builds deep and impactful relationships.

 

My Friends Describe Me As:

Hard working, loyal, creative, smart, caring, honest, and loving.

 

If I Could Swap Lives with Someone for a Day, I'd choose:

No one. I love the life that I'm creating.

 
Attend the ATHENA Awards® Luncheon
The ATHENA Awards® Luncheon is the region's most prestigious event recognizing the professional accomplishments of exceptional individuals who are dedicated to the advancement of women. Be there when the recipients are announced:
Wednesday, March 29, 2023
11:00 A.M. to 1:30 P.M.
REGISTER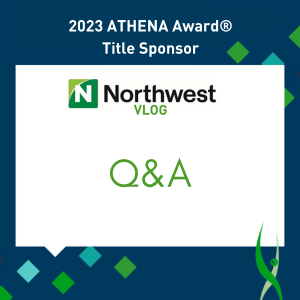 Not only is Northwest Bank the returning title sponsor for the 32nd Annual ATHENA Awards®, but their commitment to women in leadership is reflected in their daily operations.
Learn more in this video Q&A.