Get to know Seneca Gaming Corporation, finalist in the 2023 ATHENA Organizational For-Profit Award® Category
For more than 30 years, the Buffalo Niagara Partnership has been honored to produce the ATHENA Awards® to support, develop, and honor women leaders in Western New York.
The BNP is pleased to introduce you to the finalists who have been selected for the 2023 ATHENA honors. This includes the ATHENA Leadership Award®, the ATHENA Young Professional Leadership Award®, and the ATHENA Organizational Award®, which recognizes one for-profit organization and one non-profit organization that inspire women in WNY.
We're highlighting each finalist in the weeks ahead, leading up to the Awards Luncheon. Come back often to read the profiles and you'll learn what it means to be an ATHENA!
Celebrate all of our finalists and see the recipients announced LIVE on March 29, 2023 at the Buffalo Niagara Convention Center.
The Buffalo Niagara Partnership is pleased to introduce you to 1 of 5 finalists in the ATHENA Organizational For-Profit Award® category: Seneca Gaming Corporation.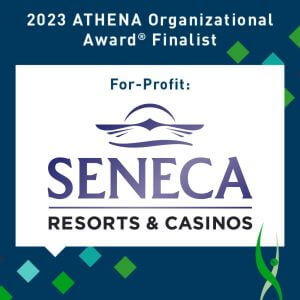 Seneca Gaming Corporation (SGC) is a wholly owned, tribally chartered corporation of the Seneca Nation of Indians (Nation) which operates all of the Nation's Class III gaming operations in Western New York. Seneca Gaming Corporation, through its wholly-owned subsidiaries, Seneca Niagara Falls Gaming Corporation (SNFGC), Seneca Territory Gaming Corporation (STGC), and Seneca Erie Gaming Corporation (SEGC), operates Seneca Niagara Resort & Casino in Niagara Falls, New York, Seneca Allegany Resort & Casino in Salamanca, New York, and Seneca Buffalo Creek Casino in Buffalo, New York.
Since opening Seneca Niagara Casino in 2002, Seneca Gaming Corporation has grown into one of the largest private sector employers in Western New York, with 4,000 employees at its three locations. The company operates world-class facilities offering more than 6,000 slot machines, 140 table games, 1,000 hotel rooms, a championship golf course, and other related amenities.
Company Culture
Women hold a powerful role in the matrilineal culture of the Seneca Nation. As a Seneca-owned company, Seneca Gaming Corporation embraces Seneca culture, and fully supports and encourages women to pursue advancement within the company. Throughout the company's 20-year history, women have helped lead and grow Seneca Gaming Corporation into one of the region's largest private employers. Women have and continue to hold leadership positions at every level throughout the company, from the Board of Directors and the Senior Management Team to property operations. Many of the company's female leaders have grown with the company, and the company has encouraged and supported their professional advancement through various trainings, seminars, and programs.
Community Engagement
Giving back to the community is an essential part of the company's culture. Seneca Gaming Corporation supported more than 120 local organizations with cash and in-kind donations in 2022 alone. In addition, the company has had its Team Seneca Cares program in place for several years. The program rewards team members for volunteering their time to community and charitable causes. Among the many organizations that have been supported by Seneca Gaming Corporation over the last two decades, benefitting from donations of both time and resources, are The American Diabetes Association, the American Heart Association, the Variety Club of Buffalo, Niagara Falls Memorial Medical Center, Junior Achievement of Western New York, Global Gaming Women, and many others.
Other organization partners, including board participation by Seneca Gaming Corporation leaders, include the Buffalo Niagara Partnership, ATHENA Awards Executive Committee, Destination Niagara USA, Leadership Buffalo, the Niagara Falls Culinary Institute, the Niagara Area Foundation, Seneca Salamanca Chamber of Commerce, Native American Community Services of Erie and Niagara County, White Whiskers Senior Dog Sanctuary, and Orchard Park Little Loop Football & Cheer, to name a few.
Leadership
The gaming industry has been a male-dominated industry for much of its existence and remains so today. Seneca Gaming Corporation has broken that glass ceiling several times over, establishing itself as a leader in the hiring, development, and promotion of female executives. Women have served in every major executive role at some point in the company's history, including Chair of the Board of Directors, President & CEO, Chief Marketing Officer, Chief Information Officer, General Counsel, Vice President of Human Resources, and General Manager at its three casino properties.
Today, women are represented across Seneca Gaming Corporation's leadership structure, including at the organization's highest levels – the Board of Directors and the Senior Management Team. Two-thirds of the company's Board members, including two Board officers, are women. In addition, one-half of the company's Senior Management Team is comprised of women, helping to set the strategic direction and operation for the company. Taking a wider view, 147 women hold positions of manager or above at Seneca Gaming Corporation, including 120 women managers, 21 women directors, and 6 women Vice Presidents. In all, approximately 40% of all management positions at Seneca Gaming Corporation are currently held by women.
Diversity, Equity, and Inclusion
Seneca Gaming Corporation places a primary focus on creating opportunities for the hiring, retention, success, advancement, and professional development of Seneca and other Native American team members, starting with the recruitment and pre-hiring hiring process and carrying throughout an individual's employment with the company. The focus is to help ensure that Seneca and other Native American individuals, and by extension their communities, can experience the benefit of the historic investments being made by the Seneca Nation, and prepare those candidates to be the next generation of company leaders in the process.
As team members continue their growth and progression, Leadership Seneca provides additional coaching and assistance, focusing on Leadership, Lean Management, and other skills development.
Attend the ATHENA Awards® Luncheon
The ATHENA Awards® Luncheon is the region's most prestigious event recognizing the professional accomplishments of exceptional individuals who are dedicated to the advancement of women. Be there when the recipients are announced:
Wednesday, March 29, 2023
11:00 A.M. to 1:30 P.M.
REGISTER