Get to know Mod Tech Labs, finalist in the 2023 ATHENA Organizational For-Profit Award® Category
For more than 30 years, the Buffalo Niagara Partnership has been honored to produce the ATHENA Awards® to support, develop, and honor women leaders in Western New York.
The BNP is pleased to introduce you to the finalists who have been selected for the 2023 ATHENA honors. This includes the ATHENA Leadership Award®, the ATHENA Young Professional Leadership Award®, and the ATHENA Organizational Award®, which recognizes one for-profit organization and one non-profit organization that inspire women in WNY.
We're highlighting each finalist in the weeks ahead, leading up to the Awards Luncheon. Come back often to read the profiles and you'll learn what it means to be an ATHENA!
Celebrate all of our finalists and see the recipients announced LIVE on March 29, 2023 at the Buffalo Niagara Convention Center.
The Buffalo Niagara Partnership is pleased to introduce you to 1 of 5 finalists in the ATHENA Organizational For-Profit Award® category: Mod Tech Labs.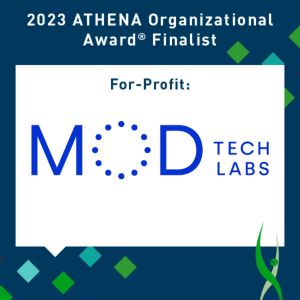 A 43North $1 million winner in 2022, Mod Tech Labs, Inc. uses machine learning to create 3D content for industries such as film, TV, and video game production. The company recently worked on a project with NBC Universal that would have taken six months using traditional 3D conversion methods. With MOD, it took three weeks. Company software is 20 times more efficient and 3,000 times faster than traditional programs.
Company Culture
As an early-stage startup, with a female founder, Mod Tech focuses its efforts on having a wide hiring pool with many female candidates that are both technical and non-technical roles. The company made its first two hires in Buffalo, both women, making its team 75% female at this time. Mod Tech's goal for employees is to continue upskilling and making their career potential grow past current needs to solidify their long-term success beyond working with Mod Tech.
Community Engagement
Mod Tech works with Girls in Tech, the Black Technology Mentorship Program, Seedling Foundation, and other opportunities as they arise to mentor, ally, and educate within underserved communities. As members of the Consumer Technology Association (CTA & CES) both company Founders have chaired and championed work including Diversity and Inclusion in XR which is focused on the hardware, software, content, hiring, and other practices used for this medium to be more inclusive of the human spectrum. They have spoken at major Entertainment industry events like Siggraph focuses on More Inclusive Tech for Production detailing how this industry can embrace new data sets, tools, and thinking to reduce bias. Both founders were awarded Leadership Awards from CTA for this work.
Leadership
Mod tech is co-founded and led by a female CEO. Its first investor and next largest stock holder outside of the founders is a Venture Fund with a Female CEO and Partner. As the company continues to grow in Buffalo over the next two years, hiring plans include women for about 10 roles a year. In 2024, the company will target hiring executives and believes there will be at least two senior roles that will be filled by women.
Diversity, Equity, and Inclusion
Both Mod Tech Labs founders have worked to expand the DE&I Standards space with published standards including Best Practices for Diversity in XR and Best Practices for Limited Mobility in XR. They have also authored articles about bias in technology and spoken on the topic at industry events. Internally they are developing processes to have open and candid conversations with employees and allow for learning from each other.
Attend the ATHENA Awards® Luncheon
The ATHENA Awards® Luncheon is the region's most prestigious event recognizing the professional accomplishments of exceptional individuals who are dedicated to the advancement of women. Be there when the recipients are announced:
Wednesday, March 29, 2023
11:00 A.M. to 1:30 P.M.
REGISTER