Get to know Phillips Lytle LLP, finalist in the 2023 ATHENA Organizational For-Profit Award® Category
For more than 30 years, the Buffalo Niagara Partnership has been honored to produce the ATHENA Awards® to support, develop, and honor women leaders in Western New York.
The BNP is pleased to introduce you to the finalists who have been selected for the 2023 ATHENA honors. This includes the ATHENA Leadership Award®, the ATHENA Young Professional Leadership Award®, and the ATHENA Organizational Award®, which recognizes one for-profit organization and one non-profit organization that inspire women in WNY.
We're highlighting each finalist in the weeks ahead, leading up to the Awards Luncheon. Come back often to read the profiles and you'll learn what it means to be an ATHENA!
Celebrate all of our finalists and see the recipients announced LIVE on March 29, 2023 at the Buffalo Niagara Convention Center.
The Buffalo Niagara Partnership is pleased to introduce you to 1 of 5 finalists in the ATHENA Organizational For-Profit Award® category: Phillips Lytle LLP.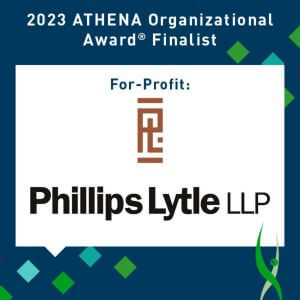 Founded in 1834, Phillips Lytle LLP is a premier regional law firm that is recognized nationally for its legal excellence. With offices across New York State and in Chicago, IL; Washington, D.C.; and Canada, the firm's attorneys serve a multinational client base, including FORTUNE 1000 companies, global and regional financial institutions, not-for-profit organizations, middle-market companies, startups, entrepreneurs, and individuals on important matters affecting their businesses and personal wealth.
Company Culture
Phillips Lytle values the role of women in the firm and is committed to cultivating an inclusive environment where women have the opportunity to flourish and succeed. Specific examples of programs and efforts that demonstrate this include its sizeable Women's Resource Group that seeks to develop and promote women lawyers and maximize their opportunities; an engaged mentoring program available to all female associates; and robust training programs for associates, providing opportunities to learn from highly skilled attorneys. Phillips Lytle's women attorneys have been recognized in Chambers USA: America's Leading Lawyers for Business, The Best Lawyers in America 2023, and the 2022 Upstate New York Super Lawyers and Rising Stars lists.
Community Engagement
Phillips Lytle encourages its attorneys to be active members of their communities and serve on boards or organizations of their choice. Many of the firm's female lawyers serve on and lead external boards in their communities. The firm's marketing group identifies these opportunities for women to serve in these roles. The firm then supports these individuals in their community-based initiatives by also providing financial support and volunteers when necessary. Thus, women serve on boards that impact the community's agricultural, educational, architectural, theatrical, charitable, healthcare, and other sectors. The firm also encourages participation in local and national bar associations in service to the legal profession, including the Women's Bar Association of the State of New York.
Leadership
At Phillips Lytle, key leadership roles are held by women.
50% of its Management Committee are women and the Chair of that Committee is a woman.
3 out of 5 of the firm's Practice Group Leaders are women.
Phillips Lytle's Diversity Partner is a woman.
Two of the firm's three Executive Team members are women. Their roles include Chief Business Development & Marketing Officer and Human Resources and Professional Development Director.
Diversity, Equity, and Inclusion
Phillips Lytle's ongoing commitment to promoting and advancing a more inclusive and diverse work environment are cornerstones of its values and culture. Phillips Lytle is an equitable and inclusive workplace and values the perspectives of its diverse attorneys and staff.
The firm recently adopted a new Strategic Plan in which considerations of diversity, equity, and inclusion mark its central initiatives. In fact, supporting diversity has historically been integral to the firm's strategic planning processes.  Phillips Lytle also supports the value that its clients place on diversity, equity, and inclusion in their respective industries and is committed to collaborating with them to meaningfully make change.
Attend the ATHENA Awards® Luncheon
The ATHENA Awards® Luncheon is the region's most prestigious event recognizing the professional accomplishments of exceptional individuals who are dedicated to the advancement of women. Be there when the recipients are announced:
Wednesday, March 29, 2023
11:00 A.M. to 1:30 P.M.
REGISTER