Introducing Stephanie Lawson, finalist for the 2023 ATHENA Young Professional Leadership Award
For more than 30 years, the Buffalo Niagara Partnership has been honored to produce the ATHENA Awards® to support, develop, and honor women leaders in Western New York.
The BNP is pleased to introduce you to the finalists who have been selected for the 2023 ATHENA honors. This includes the ATHENA Leadership Award®, the ATHENA Young Professional Leadership Award®, and the ATHENA Organizational Award®, which recognizes one for-profit organization and one non-profit organization that inspire women in WNY.
We're highlighting each finalist in the weeks ahead, leading up to the Awards Luncheon. Come back often to read the profiles and you'll learn what it means to be an ATHENA!
Celebrate all of our finalists and see the recipients announced LIVE on March 29, 2023 at the Buffalo Niagara Convention Center.
The Buffalo Niagara Partnership is pleased to introduce you to 1 of 10 finalists in the ATHENA Leadership Award® category - Young Professional
Meet ATHENA Young Professional Leadership Award® Finalist: Stephanie Lawson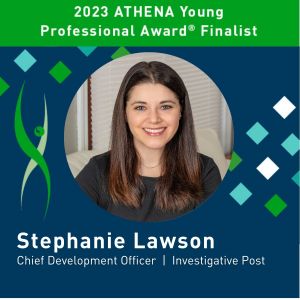 Stephanie Lawson works as the Chief Development Officer for Investigative Post, responsible for increasing community engagement and growing the base of supporters for the non-profit news organization. 
Stephanie previously worked at Habitat for Humanity Buffalo, where she oversaw fundraising, communications, advocacy, outreach, and the ReStore. She helped develop signature campaigns, including Women Build Week, Leaders Build, and The House Beer Built.   
Prior to Habitat Buffalo, Stephanie worked for with the Food Bank of Western New York (now FeedMore WNY) where she developed the Food for Kids Initiative, a set of programs that provided education and nutritious food for children across the area. Stephanie also established the Food Bank's signature children's program, the BackPack Program, through which children receive a backpack filled with food each Friday throughout the school year.      
Stephanie is passionate about community service. She has volunteered with HEART Animal Rescue, A Purrfect Fit Animal Rescue, and as a "big" through Big Brothers Big Sisters. Presently she serves on the development committee of the Buffalo Central Terminal and volunteers for WNY Women's Foundation ALL IN mentorship program. She also fosters dogs for 716 PAWS.  
We asked Stephanie a series of questions to get to know her better.
First Job  
Stephanie's first job was at 15 years old working as a cashier at Wegmans. 
Career Highlights 
In 2021, she was recognized as Habitat for Humanity Employee of the Year. 
Best Piece of Advice Given Regarding Her Career 
Ask boldly. My former boss had a plaque with this phrase in her office and it stuck with me.  
Advice to Give to a Woman Just Starting in the Workplace. 
Find a mentor and embrace mentorship. I have been the beneficiary of truly incredible mentors.  
About Being an Athena Finalist 
"It is humbling to be selected as a finalist for the ATHENA Award. I am honored to be among such an incredible group of women, all of whom are equally deserving and are making a meaningful difference in WNY. I am truly touched by those who went out of their way to nominate me for this award. I can honestly say that this would not be possible without the women who have generously offered mentorship and support throughout my career. I am genuinely grateful."  
On Buffalo Niagara 
"WNY is an inspiring model of generosity. When the chips are down, our neighbors show up – we look out for each other. I've had the privilege to see this up close throughout my nonprofit career." 
Favorite Spot in Buffalo.  
The patio between Hartman's and Resurgence  
Attend the ATHENA Awards® Luncheon
The ATHENA Awards® Luncheon is the region's most prestigious event recognizing the professional accomplishments of exceptional individuals who are dedicated to the advancement of women. Be there when the recipients are announced:
Wednesday, March 29, 2023
11:00 A.M. to 1:30 P.M.
REGISTER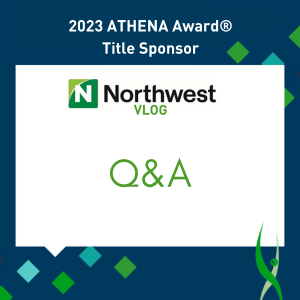 Not only is Northwest Bank the returning title sponsor for the 32nd Annual ATHENA Awards®, but their commitment to women in leadership is reflected in their daily operations.
Learn more in this video Q&A.