Introducing Kelsey Sweet, finalist for the 2023 ATHENA Young Professional Leadership Award
For more than 30 years, the Buffalo Niagara Partnership has been honored to produce the ATHENA Awards® to support, develop, and honor women leaders in Western New York.
The BNP is pleased to introduce you to the finalists who have been selected for the 2023 ATHENA honors. This includes the ATHENA Leadership Award®, the ATHENA Young Professional Leadership Award®, and the ATHENA Organizational Award®, which recognizes one for-profit organization and one non-profit organization that inspire women in WNY.
We're highlighting each finalist in the weeks ahead, leading up to the Awards Luncheon. Come back often to read the profiles and you'll learn what it means to be an ATHENA!
Celebrate all of our finalists and see the recipients announced LIVE on March 29, 2023 at the Buffalo Niagara Convention Center.
The Buffalo Niagara Partnership is pleased to introduce you to 1 of 10 finalists in the ATHENA Leadership Award® category - Young Professional
Meet ATHENA Young Professional Leadership Award® Finalist: Kelsey Sweet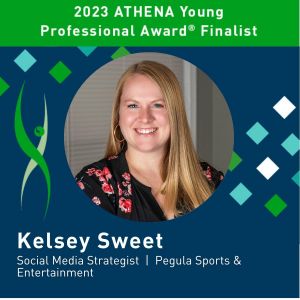 Kelsey Sweet is a proud Buffalo native and is the Social Media Strategist for Pegula Sports and Entertainment. In her role, Kelsey develops strategy and executes social-specific initiatives across all Pegula Sports and Entertainment brands for special projects. She oversees day-to-day activity on all social media accounts for the Buffalo Bandits (NLL), One Buffalo, and Pegula Sports and Entertainment, and collaborates and contributes to the social media marketing efforts of the Buffalo Bills (NFL) and the Buffalo Sabres (NHL). 
Kelsey is the vice chair of the alumni advisory board for Nazareth College, board member and marketing committee member of the United Way of Buffalo & Erie County's Next Generation United, Prep Collective member for Buffalo Prep, and the co-chair of the Salvation Army's Most Amazing Race. She earned a bachelor's degree from Nazareth College. 
We asked Kelsey a series of questions to get to know her better.
First Job  
Kelsey's first job after college was as Special Events Coordinator for the Northwest Arkansas Naturals (Double-A Affiliate of the Kansas City Royals)  
Career Highlights 
Last year, Kelsey notes she had the privilege of working Super Bowl LVI, a once-in-a-lifetime moment. 
Best Piece of Advice Given Regarding Her Career 
Treat everyone as a VIP. 
Advice to Give to a Woman Just Starting in the Workplace. 
Take every opportunity you have to take a seat at the table. Closed mouths don't get fed though, so if there's an opportunity you want, don't be afraid to speak up for yourself and advocate for what you want! 
About Being an Athena Finalist 
"There are so many women doing incredible work in the Buffalo community and in their places of work here in the 716 too, so to be a finalist for the ATHENA Award is an incredible honor. I am so humbled to be nominated with such amazing women, who I look up to and aspire to be like. I am grateful for this opportunity to continue my work in the community and make sure everyone's voices are heard." 
On Buffalo Niagara 
I could easily write an essay about this, but my short answer is because of the people and the food. I admire all the amazing people I get to work with and do life with. The true connections and friendships I have made, all while sharing incredible food in our beautiful city are my favorite things.   
Favorite Spot in Buffalo.  
My favorite spots to reflect in Buffalo are Bidwell Park, Wilkeson Pointe, and Bird Island Pier!  
Added Insights 
Guilty Pleasure:

Frequenting Butter Block

 

Superpower:

Matchmaker! I've set up six couples that are now married.

 

My Friends Describe Me As:

Thoughtful, sweet, and lit 🙂

 

If I Could Swap Lives with Someone for a Day, I'd choose:

Sabrina Ionescu

 
Attend the ATHENA Awards® Luncheon
The ATHENA Awards® Luncheon is the region's most prestigious event recognizing the professional accomplishments of exceptional individuals who are dedicated to the advancement of women. Be there when the recipients are announced:
Wednesday, March 29, 2023
11:00 A.M. to 1:30 P.M.
REGISTER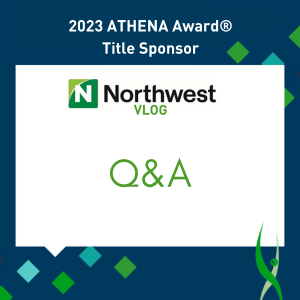 Not only is Northwest Bank the returning title sponsor for the 32nd Annual ATHENA Awards®, but their commitment to women in leadership is reflected in their daily operations.
Learn more in this video Q&A.