Get to know the Aquarium of Niagara, finalist in the 2023 ATHENA Organizational Non-Profit Award® Category
For more than 30 years, the Buffalo Niagara Partnership has been honored to produce the ATHENA Awards® to support, develop, and honor women leaders in Western New York.
The BNP is pleased to introduce you to the finalists who have been selected for the 2023 ATHENA honors. This includes the ATHENA Leadership Award®, the ATHENA Young Professional Leadership Award®, and the ATHENA Organizational Award®, which recognizes one for-profit organization and one non-profit organization that inspire women in WNY.
We're highlighting each finalist in the weeks ahead, leading up to the Awards Luncheon. Come back often to read the profiles and you'll learn what it means to be an ATHENA!
Celebrate all of our finalists and see the recipients announced LIVE on March 29, 2023 at the Buffalo Niagara Convention Center.
The Buffalo Niagara Partnership is pleased to introduce you to 1 of 5 finalists in the ATHENA Organizational Non-Profit Award® category: Aquarium of Niagara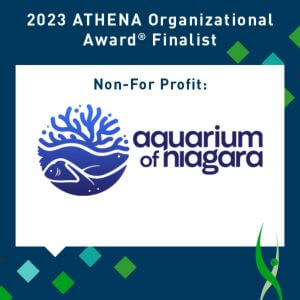 The Aquarium of Niagara is a non-profit public aquarium dedicated to education and conservation of aquatic life. Originally privately owned and founded by a group of chemists and other scientists, it opened on June 12, 1965. Ownership was transferred to a non-profit foundation, the Sea Research Foundation, in 1977, and then to the Niagara Aquarium Foundation on February 18, 1994. Located in downtown Niagara Falls, New York, the Aquarium features rescued seals and sea lions, Humboldt penguins, sharks, jellyfish, and over 128 species of mammals, fish, birds, and reptiles. The Aquarium of Niagara is accredited by the Association of Zoos and Aquariums. 
 Company Culture 
There are 38 full-time employees and 13 part-time employees at the Aquarium of Niagara – 68% of those positions are held by women. The Aquarium ensures the growth of its female employees through a variety of different methods. Professional development and continuing education are regularly promoted and encouraged to employees of all levels. As a zoological organization, the Aquarium maintains active participation with several different accrediting bodies, such as the Association of Zoos and Aquariums (AZA), the International Marine Animal Trainers' Association (IMATA), and the Alliance of Marine Mammals Parks & Aquariums (AMMPA).  
As the Aquarium grows and diversifies its animal collection and research efforts, they encourage the women on staff to participate in robust continuing education opportunities. Many women in the animal care department have taken part in these opportunities.  More than half of the Aquarium's leadership team is comprised of women and the Aquarium has invested in various leadership programs to support and encourage female directors to reach their full potential.  
 Community Engagement 
The Aquarium of Niagara has many valuable partnerships that create pathways to work with young women and girls in the community. At the college level, the Aquarium has maintained longstanding partnerships with Niagara County Community College (NCCC) and Canisius College. NCCC offers an animal management program that is primarily a zookeeper and aquarist training program and requires students to complete an internship. The Aquarium has seen a steady influx of student interns from NCCC that have supported the Marine Mammal & Bird and Fish & Invertebrates departments. Currently, the Aquarium has five active interns, four of whom are women.  
 Leadership 
The Aquarium is committed to putting women in leadership roles. The executive team includes Gary Siddall, President/CEO, and Tracie Schafer, Vice President of Finance & Administration. In 2017, Tracie was hired as financial comptroller. Over her six-year tenure, Tracie oversaw human resources, guest experience, and administration in addition to finance. Tracie was promoted to her current position last year and is involved in critical decision-making alongside the President/CEO.  
Women hold three out of six senior leadership positions. Katherine Jones is the Director of Education & Conservation, Richelle Swem is the Director of Animal Care, and Christine Streich is the Director of Communications.  
 Diversity, Equity, and Inclusion 
 In 2018, the Aquarium of Niagara partnered with Canopy (formerly Zoo Advisors) to develop a strategic plan that would guide the organization forward over a two-to-three-year period. This plan included a new mission and vision statement, core values, and foundational commitments. Through the strategic planning process, the Aquarium identified a need and desire to become a quality-of-life resource to our community and saw that a focus on DEIA development was essential to our ability to meet that goal.  Immediately following implementation of the strategic plan, the Aquarium formed a Diversity, Equity, Access and Inclusion (DEIA) Committee, which is chaired by Aquarium Board Trustee Dr. Rolanda Ward. Dr. Ward is an Associate Professor of Social Work at Niagara University and is the Endowed Faculty Director of the Rose Bente Lee Center for Race, Equity and Mission. 
Attend the ATHENA Awards® Luncheon
The ATHENA Awards® Luncheon is the region's most prestigious event recognizing the professional accomplishments of exceptional individuals who are dedicated to the advancement of women. Be there when the recipients are announced:
Wednesday, March 29, 2023
11:00 A.M. to 1:30 P.M.
REGISTER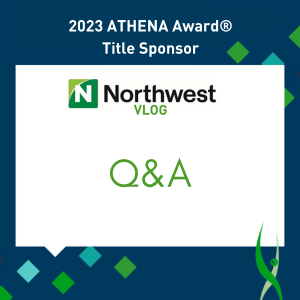 Not only is Northwest Bank the returning title sponsor for the 32nd Annual ATHENA Awards®, but their commitment to women in leadership is reflected in their daily operations.
Learn more in this video Q&A.