Get to know the People Inc., finalist in the 2023 ATHENA Organizational Non-Profit Award® Category
For more than 30 years, the Buffalo Niagara Partnership has been honored to produce the ATHENA Awards® to support, develop, and honor women leaders in Western New York.
The BNP is pleased to introduce you to the finalists who have been selected for the 2023 ATHENA honors. This includes the ATHENA Leadership Award®, the ATHENA Young Professional Leadership Award®, and the ATHENA Organizational Award®, which recognizes one for-profit organization and one non-profit organization that inspire women in WNY.
We're highlighting each finalist in the weeks ahead, leading up to the Awards Luncheon. Come back often to read the profiles and you'll learn what it means to be an ATHENA!
Celebrate all of our finalists and see the recipients announced LIVE on March 29, 2023 at the Buffalo Niagara Convention Center.
The Buffalo Niagara Partnership is pleased to introduce you to 1 of 5 finalists in the ATHENA Organizational Non-Profit Award® category: People Inc.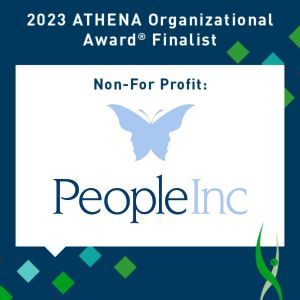 People Inc. was founded in 1970 by a small group of parents and professionals, who were concerned and passionate about addressing the needs of people with intellectual disabilities. Since then, People Inc. has remained forward-thinking and expanded its mission to include a wider variety of supports that address the needs of people with intellectual and developmental disabilities, families, older adults, and the community. People Inc., a multispecialty nonprofit health and human services agency, has nearly 4,000 staff members, who make an impact for the more than 12,000 people of all abilities and ages at nearly 200 locations. 
Company Culture 
People Inc. is the largest and leading health and human services agency in Western New York. As a multi-specialty non-profit agency, we serve over 12,000 people with intellectual and developmental disabilities (IDD) of all ages, their families, and seniors, to live independent and productive lives.  The present success and steady growth of our agency stems from our corporate culture. People Inc. is guided by the values of respect, integrity, diversity, and inclusion. We relentlessly pursue excellence and encourage our staff to develop creative and flexible services that improve the lives of people with special needs. The same principles guide our commitment to professional development. Our employees are our greatest resources. The quality of our services is proportionate to the skills of our employees and People Inc. has invested substantial resources to nurture their personal and professional growth.  
Our agency continues to promote and facilitate the advancement of women in the health and human services workforce.  For instance, Ms. Rhonda Frederick, President & CEO, Ms. Nancy Palumbo, Chief Administrative Officer, and Mrs. Concetta Ferguson, Chief Innovation and Program Development Officer, Ms. Anne Stone, Chief Financial Officer, and Ms. Dawn MacMurray, Senior Vice President embody how our agency supported the professional advancement of women who started their career at an entry-level position and later rose to executive leaders.  
Community Engagement 
People Inc. partners with a wide range of organizations, coalitions, programs, and memberships to give back to women and girls in our community. Agency events, programs, and volunteering opportunities apply the agency's leadership principles, styles, and approaches to address community needs.  
Women leaders of our organization entertain speaking engagements in local, regional, and statewide conferences, professional meetings, and events. Their involvement in these activities represents a vehicle for our agency to prepare and give back to professional women who are navigating leadership roles in the field of health and human services. Furthermore, People Inc. cultivated and prepared many talented women to become successful leaders at other agencies. For example, Ms. Susan Barlow, former Executive Director of Parent Network of WNY, and Ms. Kimberly Kadziolka, current Executive Director of Parent Network of WNY, began their careers at People Inc.  
Leadership 
Currently, there are eleven senior leadership team positions available at People Inc. including the President & CEO. Nine of our eleven senior leaders are women. This group includes President & CEO, Chief Financial Officer, Chief Administrative Officer, Chief Innovation & Program Development Officer, four Senior Vice Presidents, and one Vice President.  
Recently, the Board of Directors of People Inc. has named Ms. Anne McCaffrey the new President and CEO of our agency. Ms. McCaffrey will take charge on March 20, 2023, succeeding Ms. Rhonda Frederick after a 43-year career with People Inc.  
People Inc.'s Board of Directors is comprised of 13 Board members. Six are female professionals including the current Chairperson and Vice Chairperson; the remaining four women are Board members. Of the six females representing our Board of Directors, one is African American, one is Latina and the remaining four are Caucasian.  
Diversity, Equity, and Inclusion 
Inclusion has always been one of the fundamental principles inspiring People Inc.'s Mission and Vision. Our agency is committed to full utilization of all human resources and to policies and procedures of equal employment opportunity for all. This commitment is seen clearly in the diversity of our employee base and the community we serve.  
Approximately 29% of our employees are Black or African American. Over 50% are women, and a majority of our senior leaders are women. A diverse and inclusive workplace increases our ability to recruit talented employees who bring innovative ideas that respond to the needs of our diverse Western New York Community. 
Attend the ATHENA Awards® Luncheon
The ATHENA Awards® Luncheon is the region's most prestigious event recognizing the professional accomplishments of exceptional individuals who are dedicated to the advancement of women. Be there when the recipients are announced:
Wednesday, March 29, 2023
11:00 A.M. to 1:30 P.M.
REGISTER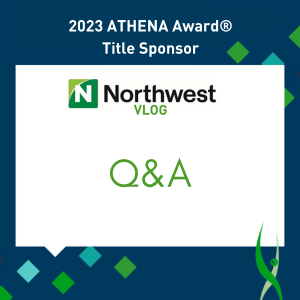 Not only is Northwest Bank the returning title sponsor for the 32nd Annual ATHENA Awards®, but their commitment to women in leadership is reflected in their daily operations.
Learn more in this video Q&A.