Introducing Jamie Batt, finalist for the 2023 ATHENA Leadership Award
For more than 30 years, the Buffalo Niagara Partnership has been honored to produce the ATHENA Awards® to support, develop, and honor women leaders in Western New York.
The BNP is pleased to introduce you to the finalists who have been selected for the 2023 ATHENA honors. This includes the ATHENA Leadership Award®, the ATHENA Young Professional Leadership Award®, and the ATHENA Organizational Award®, which recognizes one for-profit organization and one non-profit organization that inspire women in WNY.
We're highlighting each finalist in the weeks ahead, leading up to the Awards Luncheon. Come back often to read the profiles and you'll learn what it means to be an ATHENA!
Celebrate all of our finalists and see the recipients announced LIVE on March 29, 2023 at the Buffalo Niagara Convention Center.
The Buffalo Niagara Partnership is pleased to introduce you to 1 of 10 finalists in the ATHENA Leadership Award® category - Jamie Batt, Partner, Rupp Pfalzgraf LLC.
Meet ATHENA Leadership Award® Finalist: Jamie Batt
Jamie Batt is a partner and Business Law Group leader in the law firm of Rupp Pfalzgraf LLC, where she focuses her practice on mergers and acquisitions and business succession planning.
She earned a bachelor's degree in history from Duquesne University where she was a scholarship athlete on the school's Division I tennis team.  She then went on to earn an MBA from State University of New York at Buffalo School of Management and a law degree from University at Buffalo School of Law.
Jamie has been practicing law for more than 16 years and is a former business editor of the Buffalo Criminal Law Review. She has been recognized among the Upstate New York Super Lawyers and the Legal Elite of Western New York
Jamie serves as a board member of the WNY Women's Foundation and Explore & More - The Ralph C. Wilson, Jr. Children's Museum.  She is also an advisory member of Women United, a network of women in support of the United Way of Buffalo & Erie County
We asked Jamie a series of questions to get to know her better.
First Job
Besides babysitting (starting at age 12), Jamie worked at American Eagle in the Galleria Mall as a salesperson.
Career Highlights
Jamie says being the most senior woman attorney at Rupp Pfalzgraf LLC is her greatest career highlight so far.
Best Piece of Advice Given Regarding Her Career
You can effectively represent clients without being a jerk, and you can actually win points by not giving into the provocation to act like one.
Advice to Give to a Woman Just Starting in the Workplace
Show initiative and be proactive.  Employers are looking for future rock stars who demonstrate their abilities on their own, and you have to be the driving force.
About Being an ATHENA Finalist
"Being named a finalist for the ATHENA Award for me means pride and feeling a sense of great accomplishment."
 On Buffalo Niagara
"I enjoy the lifestyle/pace here and the fact that most of my family still lives here."
Favorite Spot in Buffalo
Running down Lincoln Parkway in the Elmwood Village
Added Insights
Guilty Pleasure: A good Old Fashioned
Superpower: Being Hopeful and optimistic
My Friends Describe Me As: The party planner
If I Could Swap Lives with Someone for a Day: No one. I wouldn't want to give up my family for even a day.
Attend the ATHENA Awards® Luncheon
The ATHENA Awards® Luncheon is the region's most prestigious event recognizing the professional accomplishments of exceptional individuals who are dedicated to the advancement of women. Be there when the recipients are announced:
Wednesday, March 29, 2023
11:00 A.M. to 1:30 P.M.
REGISTER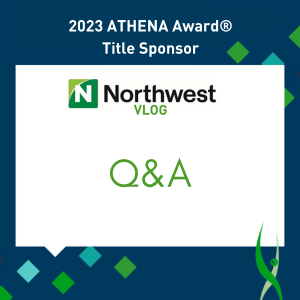 Not only is Northwest Bank the returning title sponsor for the 32nd Annual ATHENA Awards®, but their commitment to women in leadership is reflected in their daily operations.
Learn more in this video Q&A.