Jose Mendoza, 2022 BN360 Spotlight Professional
The Buffalo Niagara Partnership is pleased to present the 2022 BN360 Spotlight Professionals.
Each year, BN360 highlights up-and-coming young professionals who strive for professional growth and development, care for their community, and are passionate about the future of the Buffalo Niagara region.
Jose Mendoza
VP Sr. Business Banking Relationship Manager | Five Star Bank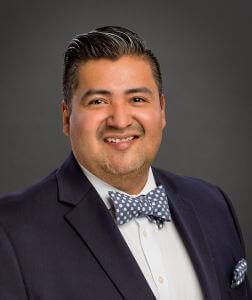 Jose Mendoza graduated with a Bachelor of Science in Economics & Finance from University at Buffalo. With a concentration in corporate finance, Jose has excelled in commercial banking for over a decade. Since joining Five Star Bank, Jose has served as a Vice President Senior Business Banking Relationship Manager in WNY, where he is responsible for managing a portfolio of commercial clients and helping them achieve success.
In addition to his clients, Jose serves as a trusted advisor to his associates and peers at Five Star Bank. He leads by example among the business banking group as well as within the local community, where he is always willing to invest his time and knowledge with others. Jose is especially passionate about connecting with and empowering small businesses throughout Buffalo Niagara and, as a bilingual professional, fostering a diverse client base.

First Job:
My very first job was as a dishwasher at a local restaurant at the age of 14. I had my high school working permit; I was able to work a max of 20 hours per week when school was in session and 40 hours per week when school was not in session.
Greatest Professional Win:
My top 2 professional achievements are as follows:
Exceeding performance expectations YOY
Exceeding the number of Volunteer hours I established for myself for 2022
Best Piece of Professional Advice:
Invest in YOU NOW! Study, work hard, achieve greatness, and stay humble. One of my favorite quotes to my kids and young professionals- "The future depends on what you do today." – Mahatma Gandhi.
Community Engagement:
Kids Escaping Drugs Volunteer
Central Amherst Little League Coach
Ride for Roswell
Habitat for Humanity Buffalo
Thoughts on Living, Working, and Playing in Buffalo Niagara:
Absolutely love WNY! WNY is such a great community that has developed immensely over the last 20 years. It has been great witnessing the renaissance of WNY and the development of city block after city block.
I have had the pleasure of working with many Small Business owners in the WNY region. We have made lots of wonderful and meaningful connections and looking forward to making so many more.
I run two soccer teams in WNY over the winter months and another one in the summer. Winter months are at Epic in Williamsville NY and the summer league is outside in Grand Island.
On Being a BN360 Spotlight Professional:
It feels great to be recognized for doing work that helps and empowers small business. I'm grateful for the recognition from such a great organization.
2021 Takeaway:
Compare less and reflect more. We live in a social media era where it's hard not to compare yourself to others. It's great to celebrate other people; however, I feel it's equally important, if not greater, to focus on you and your strengths and learn to compete with yourself and not with others.
The Pandemic's Career Impact:
The pandemic did not really impact me that much. For a short period of time, I was conducting business meetings virtually; however, I am happy to be back out in the field meeting with my clients, COIs, and prospects face to face - probably my favorite part of my job. Connecting and being around people.
Top 5 Favorites:
Best Buffalo-Niagara Hidden Gem: Buffalo Harbor park
Favorite Mural: Josh Allen Mural- Cole's on Elmwood

Go-to Buffalo Food

:

Buffalo Chicken Wings

Best Buffalo Activity/Hobby:

Craft beer tastings - we have a great craft beer community in WNY

Place you would take someone new to Buffalo

:

Niagara Falls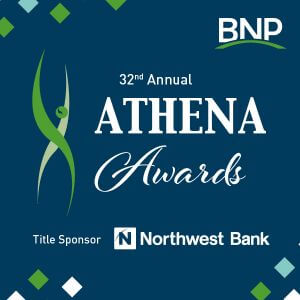 The Buffalo Niagara Partnership is pleased to announce the individual finalists for the 2023 ATHENA Leadership and Young Professional Leadership Awards®.  The awards recognize contributions made by women leaders that show professional excellence and advance the status of women throughout the Buffalo Niagara region.