Stephanie Peete, 2022 BN360 Spotlight Professional
The Buffalo Niagara Partnership is pleased to present the 2022 BN360 Spotlight Professionals.
Each year, BN360 highlights up-and-coming young professionals who strive for professional growth and development, care for their community, and are passionate about the future of the Buffalo Niagara region.
Stephanie Peete
Business Partnerships Manager  | Say Yes Buffalo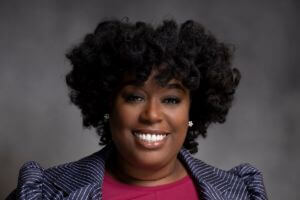 Stephanie Peete is the Business Partnerships Manager at Say Yes Buffalo, where she cultivates employer relationships for internships and youth apprenticeship opportunities, helps develop racial equity solutions, and contributes to strengthening the youth employment ecosystem in the city of Buffalo. In 2020 she launched the Employer Think Tank series, which provides area employers with quarterly race equity virtual learning opportunities. To date, over two hundred professionals from sixty unique organizations have attended.
In addition to volunteering as a Say Yes Buffalo Mentor, Stephanie serves on the Board of Directors for Theatre of Youth. She is also a member of Women United through the United Way for Buffalo & Erie County and a co-chair for the Women of Color Summit. Stephanie was a 2021 recipient of the Bar Association of Erie County's Liberty Bell Award and a 2022 Buffalo Business First IDEA Award recipient. Stephanie lives her passion for racial equity, inclusion, and supporting young people in our community in all she does.

First Job:
My first job was as a summer camp counselor at the George K. Arthur Center on Genesee Street.
Greatest Professional Win:
It's an amazing feeling to see so many of our Say Yes Scholar interns become colleagues. They're now in leadership roles in our community, attending the same meetings as us, and even serving on boards. It's really incredible.
Best Piece of Professional Advice:
Invest in strengthening your emotional intelligence - read books by authors from different communities and join organizations that will broaden your perspective. You'll learn all the technical things you need to know as you progress in your career with various employers, but empathy requires intention. You'll need this to be an effective leader.
Community Engagement:
Currently I am on the Board of Directors for Theatre of Youth, where I am also the Chair for the DEI Committee; an Advisory Board Member for Women United through the United Way of Buffalo & Erie County; a Mobilize Committee Member for the John R. Oishei Foundation; and Co-Chair for the Women of Color Summit.
Thoughts on Living, Working, and Playing in Buffalo Niagara:
There's so much opportunity here. The Greater Buffalo Niagara region is such a dynamic community with a great quality of life, amazing cultural institutions, and incredible restaurants. However, this perspective changes depending on who you're speaking to and what part of the region they call home. We have the opportunity to prioritize the voices of the disenfranchised, address inequities, and create systemic change that will ensure this region benefits everyone.
On Being a BN360 Spotlight Professional:
It feels great to be acknowledge for doing work that fulfills me, both personally and professionally. I'm grateful that my colleagues chose to nominate me.
2021 Takeaway:
My CEO has always told me, "Someone has to be the first." In the past year I've learned that I don't need to wait for perfect timing or permission to use my voice.
The Pandemic's Career Impact:
The pandemic and calls for social justice compelled me to really lean into my skills as a racial equity coach and have the difficult conversations, especially within the business community.
Top 5 Favorites:
Best Buffalo-Niagara Hidden Gem: The Five Points neighborhood
Favorite Mural: The Freedom Wall

Go-to Buffalo Food

:

Pizza and wings

Best Buffalo Activity/Hobby:

Long walks in the local parks

Place you would take someone new to Buffalo

: 

Canalside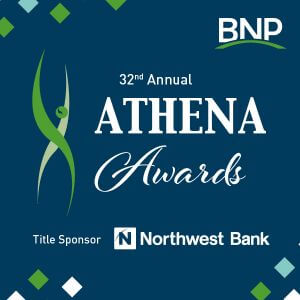 The Buffalo Niagara Partnership is pleased to announce the individual finalists for the 2023 ATHENA Leadership and Young Professional Leadership Awards®.  The awards recognize contributions made by women leaders that show professional excellence and advance the status of women throughout the Buffalo Niagara region.