Thomas Weimer, 2022 BN360 Spotlight Professional
The Buffalo Niagara Partnership is pleased to present the 2022 BN360 Spotlight Professionals.
Each year, BN360 highlights up-and-coming young professionals who strive for professional growth and development, care for their community, and are passionate about the future of the Buffalo Niagara region.
Thomas Weimer
Senior Training Specialist | Five Star Bank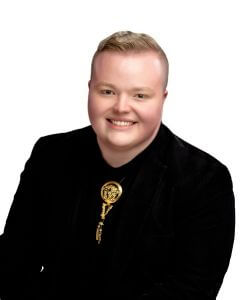 Thomas Weimer is a Sr. Training Specialist at Five Star Bank and a respected learning practitioner in the healthcare, finance, and transportation sector. Thomas has made communication and collaboration the foundations of his success. At Five Star Bank, he has helped foster leadership across the organization by assisting in the Leadership Development program.
Thomas is also an active member and previous Rising Star Honoree of the Cystic Fibrosis Foundation, where he has dedicated his time in numerous capacities. He currently serves as the Professional Development Co-Chair for the Rising Stars Committee. In this role, Thomas has expanded and increased professional development and learning events for the 2022 program, providing added value for honorees. Through fundraising, recruiting, and even tending bar at their Annual Celebrity Bartender Event, Thomas has been a committed ambassador for CFF WNY.

First Job:
Softlines Merchandiser at Kmart
Greatest Professional Win:
Being in the Learning and Development field has allowed me the honor of playing a part in the development and advancement of so many aspiring professionals across the greater Buffalo-Niagara region. To know that you've played an intrinsic part in someone's career and helped them reach new heights of success will never not be a career highlight for me.
Best Piece of Professional Advice:
Say "YES" to any and every opportunity to learn and grow, no matter how outside of your comfort zone it may be. You will never know where it will take you, but each experience ends up being worth its weight in gold someday.
Community Engagement:
Cystic Fibrosis Foundation of WNY - Rising Stars Professional Development Co-Chair and 2020 Honoree
Volunteer for FeedMore WNY
Buffalo Great Strides
Thoughts on Living, Working, and Playing in Buffalo Niagara:
A wise man once said "Don't call it a comeback!" The Buffalo-Niagara region has always been a special place. The rest of the world is just starting to catch up. With four seasons of unique activities, an array of locally owned authentic restaurants, the world-renowned Niagara Falls, current reigning AFC East Champions the Buffalo Bills, and truly a unique and compassionate community that has given Buffalo the moniker "The City of Good Neighbors," what more can I say? It's no wonder they want to "KEEP BUFFALO A SECRET."
On Being a BN360 Spotlight Professional:
I'm honored! Over the years, I have been involved with BN360 and participated in a plethora of BN360/BNP events, where I have had the pleasure of meeting and interacting with so many incredible professionals at BNP/BN360. As such, to be acknowledged is truly an honor and I'm thankful for the opportunity.
2021 Takeaway:
Enjoy the good around you.
The Pandemic's Career Impact:
The pandemic was a reset for many. For the first time in a very long time, we were all forced to sit-down and really ask ourselves "What really matters?," and I think many of those answers can be greatly attributed to the times we're living in now. For myself, I would say that the pandemic reaffirmed my choice to be an L&D practitioner and really showcased the great need for leadership development.
Top 5 Favorites:
Best Buffalo-Niagara Hidden Gem:Baba's Place
Favorite Mural: Clover Mural in South Buffalo by Hannah Jane Art

Go-to Buffalo Food

:

Wings, wings, wings!

Best Buffalo Activity/Hobby:

Ice skating at Canalside

Place you would take someone new to Buffalo

: 

Canalside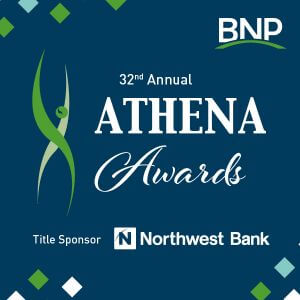 The Buffalo Niagara Partnership is pleased to announce the individual finalists for the 2023 ATHENA Leadership and Young Professional Leadership Awards®.  The awards recognize contributions made by women leaders that show professional excellence and advance the status of women throughout the Buffalo Niagara region.