Partners on the Career Path
The Buffalo Niagara Partnership continues to expand the Career Pathways Project as a component of Employ Buffalo Niagara to help connect job seekers to regional careers with tangible growth opportunities. The project was launched in 2021, made possible by a generous grant from the Ralph C. Wilson, Jr Foundation.
Working directly with employers, BNP develops custom five-year career plans that incorporate high-quality video production, for each participating company—making it easier to attract and retain talent and to work with education or training providers to properly build a successful talent pipeline.
Connecting these employment opportunities to active job seekers is just as important as the content itself. The BNP collaborates with regional training and educational organizations to feature the Career Pathways in their curriculums and programs. This synergy allows students and trainees to connect with employers in their future industries before they graduate.
The BNP is proud to collaborate with a wide range of educational and workforce development organizations as part of Career Pathways, including:
Interested in mapping your company's career pathway or becoming a Career Pathways Partner?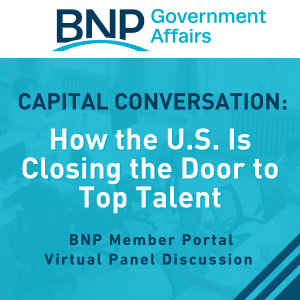 The BNP organized a Capital Conversations event as part of our Government Affairs series to examine the workings of the H-1B program and explore potential reforms that could strengthen our regional economy.