2023 DEI Symposium: Meet Bradford Watts, Speaker
The BNP is pleased to welcome Bradford Watts, Associate Vice President of Community Relations and DEI, People Inc. as a speaker at our 2023 DEI Symposium.
We will be helping you get to know each presenter, panelist, and moderator in the weeks ahead, leading up to the 6th Annual D&I Symposium on June 1st – get your tickets here.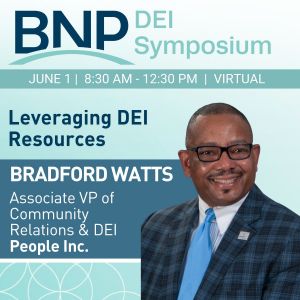 Presentation Highlights (what can the audience expect to learn or take away?):
How community engagement builds a rich dynamic for DEI Resources. (Where Hello can take you!)
D&I Resources, Recommendations, & Inspiration 
Book: Be the Sun, Not the Salt
Person: Dr. Harry D. Cohen
Advice for someone starting, or continuing, on their D&I journey: Be ready to engage with someone on a level of respect by telling your story and use active listening skills to build a relationship to foster understanding. The journey is a sojourn at times and a necessary component to this work is building ally-ship and self-care.
More about Bradford:
A Buffalo native of the historic East Side: Bradford Robert Watts, Associate Vice President, Community Relations and DEI at People Inc attributes all he is and will ever be to God's favor on his life. He is the only child of Robert and Eloise Watts who instilled a strong work ethic in him at an early age. His father, a product of Seneca Vocational and a veteran of the Navy was an entrepreneur and extrovert in the community with a knack for engaging with people of all walks of life and cultures. His mother was a staunch advocate for educational excellence as one of the first African American women to graduate with her MSW from UB School of Social Work.  Eloise attributed her success to the lessons learned dealing with polio as a child. It gave her the inner strength to overcome the odds physically, mentally, and spiritually She was the 1st woman of color in a leading position of Social Work at Roswell Park for over 30 years. Bradford was considered a miracle baby born despite the physical challenges of Eloise with a curvature of the spine. He credits his parents with providing a loving home and family environment to express himself and be his best at everything he would venture to do. Educated in Catholic schools as a child he recalls spending weeks in schools run by nuns, learning to box, and an inspirational teacher in 6th grade having him explore black history. As his parents worked, he spent amazing times with his grandparents and attended church with them on Sundays. His Grandfather Luther was a Deacon and Trustee of historic Pilgrim Baptist Church, and his Grandmother Iola sang in the choir. He then attended City Honors for the last two middle school years at the suggestion of his 6th-grade teacher.  Bradford graduated from South Park High School and attended Morehouse College, graduated from Buffalo State College with a Bachelor's in Broadcasting and a Master of Communication Arts from Buffalo State and UB Multidisciplinary Studies program.  During those years he became a single father to his daughter Monique. She became his reason to achieve. Bradford encouraged her to be her best and was inspired by their favorite song by Earth, Wind, and Fire that stated, "Keep Your Head To The Sky!" 
Bradford attributes his gift of mission and finding his joy to his wife of 24 years, Wanda.  In that time, he was a lecturer, and Adjunct professor for Buffalo State College and ECC, a videographer at Channel 7 News. But it wasn't until he gave his life to Jesus Christ that he found his true calling and mission field when he joined People Inc. as a DSP/Team Leader while working between the two SUNY schools. All of the things his mother told him about being an African American male labeled as a disciplinary or "troubled child" began to resonate in his spirit during his training. He learned about the institutionalization of people with developmental or intellectual disabilities, many of whom were people of color. He spoke with then CEO, Dr. James s about this and he was interviewed by two amazing people at the agency. His supervisor to this date Kevin Horrigan and Now CEO, Rhonda Frederick for Community Relations and that's when Jesus took the wheel!!!   
Bradford has been at People Inc. for 20 years and loves his job in community relations and DEI. According to Bradford, "It is a joy to meet people from all walks of life, talent and abilities; the leadership, employees, families, community, and especially the people that receive services have all been all part of this Spectacular Journey!" Bradford is a community Chaplain and co-associate Pastor with his wife under the leadership of Bishop Marion and Harriet Richey of the Dayspring Church of God of Prophecy in Buffalo. He says, "it makes my calling seamless with my job." He further states, "I get to volunteer with organizations in so many communities, speak with various chambers of commerce and civic groups. I have amazing talented colleagues and people that volunteer with me all year long, who smile, say hello and tell The People Inc. Story which is a part of my testimony to the power and plan of God."  In addition, Bradford serves as Co-Chair of The Parent Network of WNY, Chair of the National Federation of Just Communities of WNY(NFJC), resigned board member of the Buffalo Urban League, and representative of VOICE Buffalo for People Inc.  In his community he works with his block club Jes Breathe and committee member of Fillmore Forward for East side community and business development and stability initiatives. Bradford Watts always likes to take the opportunity to lift up all that are in service and greet everyone he meets with a smile and salutation of Hello or his emails with Greetings! Bradford's daily prayer is to grow more spiritually able to discern and be attuning to the design and plan God has for him to serve. He is a Buffalo resident born and raised in the city's eastside, where he remains to this date. Bradford graduated from South Park High School, he has a Bachelor of Arts Degree in Broadcasting. He holds a Master's Degree in Communication from Buffalo State College through Multidisciplinary studies at the University of Buffalo. He is now retired from SUNY academics and continues to serve youth, adolescents, adults, and seniors as a mentor and servant of Jesus Christ. 
Bradford loves spending time and traveling with his wife, watching sports with his father and grandson, ice skating and cocoa with his granddaughter, hearing his daughter sing, seeing all his family and loving and laughing each day the good Lord grants him. It's the journey and sometimes the sojourn, but definably "Where hello can take you and where our world opens up, hopefully it opens us up to LOVE!" 
2023 DEI Symposium: Developing DEI Resources: Where Hello Can Take You
Relationship building is foundational in business development and organizational growth.  In this session, we'll explore how inclusive practices in Business leads to the cultivation of equitable work environments.
We'll look at:
Building a resource pool
Allyship, collaborating, and sharing
The Importance of Community Engagement
How to build stronger relationships organically
Presenter: Bradford Watts, Associate Vice President of Community Relations and DEI at People Inc.
General 
Attend the 2023 DEI Symposium
Our 6th Annual Diversity, Equity, and Inclusion Symposium will feature national experts on D&I sharing their knowledge on subjects such as building an inclusive culture, and the best practices, cultural assessments, and dimensions of diversity.
KEYNOTE: Sandra Quince, Paradigm for Parity CEO, Bank of America Leader on Loan
This event will feature workshops and break-out sessions with actionable next steps for attendees to take away.
Thursday, June 1, 2023
8:30 a.m. to 12:30 p.m. EDT


Register to Attend Here
See Full Event Details & Agenda Here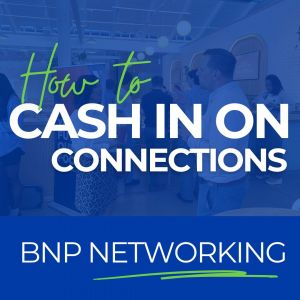 Whether you're an entrepreneur, a seasoned executive, or a budding professional, networking plays a pivotal role in your career growth. At the BNP, we understand the significance of forging meaningful connections, which is why we're excited to share the numerous benefits of networking with our members.