Introducing Jessica Smith, finalist for the 2023 ATHENA Young Professional Leadership Award
For more than 30 years, the Buffalo Niagara Partnership has been honored to produce the ATHENA Awards® to support, develop, and honor women leaders in Western New York.
The BNP is pleased to introduce you to the finalists who have been selected for the 2023 ATHENA honors. This includes the ATHENA Leadership Award®, the ATHENA Young Professional Leadership Award®, and the ATHENA Organizational Award®, which recognizes one for-profit organization and one non-profit organization that inspire women in WNY.
We're highlighting each finalist in the weeks ahead, leading up to the Awards Luncheon. Come back often to read the profiles and you'll learn what it means to be an ATHENA!
Celebrate all of our finalists and see the recipients announced LIVE on March 29, 2023 at the Buffalo Niagara Convention Center.
The Buffalo Niagara Partnership is pleased to introduce you to 1 of 10 finalists in the ATHENA Leadership Award® category - Young Professional
Meet ATHENA Young Professional Leadership Award® Finalist: Jessica Smith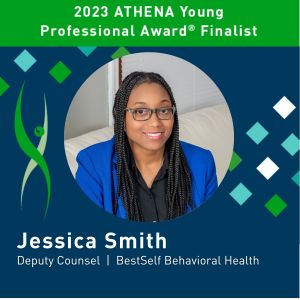 Jessica Smith, Esq. is the Deputy Counsel at BestSelf Behavioral Health where she handles a variety of legal matters for the agency. Jessica is passionate about advocating for the underrepresented. She believes in access to quality legal services, housing, and education. Jessica is an Erie County Bar Association Volunteer Lawyers Project (VLP) Rising Champion of Justice and has provided legal services through VLP.   
Jessica's involvement in the community also includes being Chair of Buffalo Creek Academy School Board of Trustees, YMCA Buffalo Niagara Board of Directors, and serving as a member of the Oishei High School Scholarship Selection Committee. 
We asked Jessica a series of questions to get to know her better.
First Job  
Jessica's first practicing job as an attorney was as a staff attorney in the housing unit at neighborhood legal services. Her first job ever was with 1490 Enterprises through the Mayor's Summer Youth Program.  
Best Piece of Advice Given Regarding Her Career 
Anything worth doing is worth doing badly.  
Advice to Give to a Woman Just Starting in the Workplace. 
Embrace what makes you unique and never allow yourself to be placed in a box. Be unwavering and relentless in pursuit of your passions and goals. 
About Being an Athena Finalist 
"I am extremely honored to be named a finalist for the ATHENA Award. It is humbling to be considered an emerging leader and I am elated to be among a group of professionals that are striving to make a positive impact in their industries and the community as a whole. Being nominated for this award will be a constant source of inspiration to me."   
On Buffalo Niagara 
I love the sense of community. People in Buffalo are so genuine. The food is second to none! We have the best food in Buffalo! 
Added Insights 
Guilty Pleasure:

Binge-watching TV.

 

My Friends Describe Me As:

Laid back.

 
Attend the ATHENA Awards® Luncheon
The ATHENA Awards® Luncheon is the region's most prestigious event recognizing the professional accomplishments of exceptional individuals who are dedicated to the advancement of women. Be there when the recipients are announced:
Wednesday, March 29, 2023
11:00 A.M. to 1:30 P.M.
REGISTER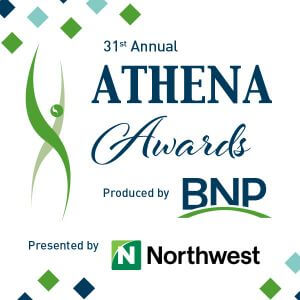 The Buffalo Niagara Partnership is pleased to announced the Organizational Award Finalists for the 31st Annual ATHENA Awards.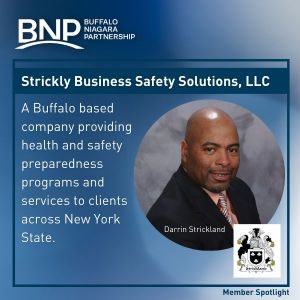 Darrin Strickland is the founder and CEO of Strickly Business Safety Solutions, LLC, a Buffalo-based company providing health and safety preparedness programs and services to clients across New York State. From authorized and certified CPR/AED training and workplace emergency preparedness, to defensive driving courses and babysitter certification, Strickland and his staff help businesses, schools, and individuals be safe and be ready in critical situations.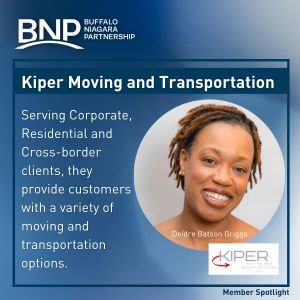 Deidre Batson Griggs is president of Kiper Moving and Transportation, a company she founded with her husband Dante that offers a full range of residential and commercial moving services, including long-distance and international moving.