Introducing Alexis Book, finalist for the 2023 ATHENA Young Professional Leadership Award
For more than 30 years, the Buffalo Niagara Partnership has been honored to produce the ATHENA Awards® to support, develop, and honor women leaders in Western New York.
The BNP is pleased to introduce you to the finalists who have been selected for the 2023 ATHENA honors. This includes the ATHENA Leadership Award®, the ATHENA Young Professional Leadership Award®, and the ATHENA Organizational Award®, which recognizes one for-profit organization and one non-profit organization that inspire women in WNY.
We're highlighting each finalist in the weeks ahead, leading up to the Awards Luncheon. Come back often to read the profiles and you'll learn what it means to be an ATHENA!
Celebrate all of our finalists and see the recipients announced LIVE on March 29, 2023 at the Buffalo Niagara Convention Center.
The Buffalo Niagara Partnership is pleased to introduce you to 1 of 10 finalists in the ATHENA Leadership Award® category - Young Professional
Meet ATHENA Young Professional Leadership Award® Finalist: Alexis Book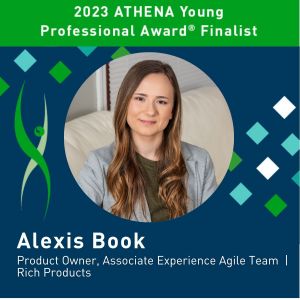 Alexis (Lexxie) Book is a Product Owner, Associate Experience Agile Team, at Rich Products in Buffalo. She is a strategic employee engagement and communications professional with experience in change management, internal communications, DEI advocacy, and Agile methodology. She began her career as a corporate communications intern at Rich Products and was hired as a communications coordinator. Other roles at the company leading to her current position include corporate communications specialist and Agile development specialist. 
Lexxie earned a bachelor's degree in communications and media studies from Canisius College, during which time she also studied abroad at the University of Galway in Ireland. She is currently working on her MBA from Canisius College.  
She serves as board member and secretary for Compass House, a Buffalo-based runaway and homeless youth shelter, and is the founder of the Diabetes Impact Scholarship, which has awarded $3K in tuition assistance to students living with Type 1 Diabetes. 
We asked Alexis a series of questions to get to know her better.
First Job  
Lexxie's first job was selling car washes at Delta Sonic. 
Career Highlights 
Lexxie notes that one of her career highlights so far was hosting a podcast with the CEO of Rich Products. She says it was incredibly fun interviewing customers and associates from different departments, while learning a new medium and technology.  
Best Piece of Advice Given Regarding Her Career 
Done is better than perfect. 
Advice to Give to a Woman Just Starting in the Workplace. 
Trust your gut and don't be afraid to speak up. 
About Being an Athena Finalist 
"Being named an Athena finalist is a tremendous honor. I'm grateful for this opportunity and excited to be part of a community of fearless female leaders in the Buffalo Niagara region."   
On Buffalo Niagara 
"I love living and working so close to the Niagara River. I also admire Buffalo's resilient spirit - we come together to overcome adversity time and time again." 
Favorite Spot in Buffalo.  
Bidwell Park 
Added Insights 
Guilty Pleasure:

Tik Tok and Queso

 

Superpower:

Vulnerability

 

My Friends Describe Me As

: Tenacious

 

If I Could Swap Lives with Someone for a Day, I'd choose:

Oprah Winfrey, circa 2011

 
Attend the ATHENA Awards® Luncheon
The ATHENA Awards® Luncheon is the region's most prestigious event recognizing the professional accomplishments of exceptional individuals who are dedicated to the advancement of women. Be there when the recipients are announced:
Wednesday, March 29, 2023
11:00 A.M. to 1:30 P.M.
REGISTER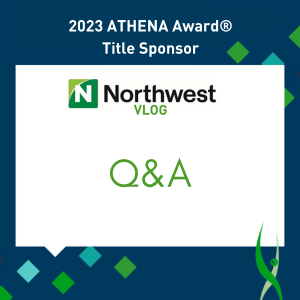 Not only is Northwest Bank the returning title sponsor for the 32nd Annual ATHENA Awards®, but their commitment to women in leadership is reflected in their daily operations.
Learn more in this video Q&A.