BNP Advocacy Insider – September 2022
Zeldin to Address BNP Next Month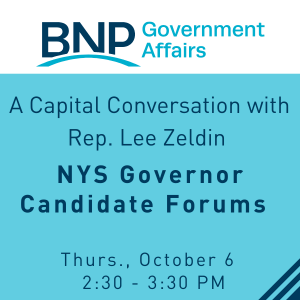 No elected official has more influence on our regional economy than the Governor of New York. As we draw closer to Election Day, the BNP has invited both candidates for New York's top office – Kathy Hochul and Lee Zeldin -- to speak.    
On Thursday, October 6, the BNP is pleased to welcome Congressman Lee Zeldin, the Republican nominee for Governor. Join us as we discuss the main issues facing our state, and Mr. Zeldin's plans to address them. Learn more and register here.  
BNP's UI Fight Gains Momentum
For over a year, the BNP has warned of a looming unemployment insurance crisis. Because the state failed to act, employers are receiving bills with sharp increases. However, the onset of financial pain has forced lawmakers to take a closer look at the issue, leading more lawmakers to voice support for state intervention. Read Senator Ed Rath's call for action in the Buffalo News here. 
BNP, Business Orgs Sound Alarm on Workers Comp Package
The BNP recently joined many other business organizations around the state in requesting a veto on numerous worker's compensation-related bills. In a letter to Gov. Hochul, the coalition explained how these bills would send employer costs skyrocketing. The BNP previously raised concerns on this package in a letter last month.  
Langworthy Big Winner in Second Primary Night
After New York's second round of primary elections, the candidate slates for November's general election are finally set. The Southern Tier elected a new Congressman, Joe Sempolinski, who will fill ex-Rep. Tom Reed's seat until January. In the most hotly-contested race, Nick Langworthy defeated Carl Paladino for the Republican nomination to Congress. Read our full primary analysis here.  
Congress to Debate Continuing Resolution
The federal government will shut down on October 1st if Congress fails to enact a spending plan for the upcoming fiscal year. So, Congress will spend September debating a continuing resolution to fund the government and avert a shutdown for a few months. By passing a continuing resolution, Congress will punt most of the contentious policy debates until the midterm elections are over. We expect a more pronounced budget battle in December, although the shape of that budget may look very different depending on how the midterm elections go. The BNP will keep you posted with any appropriations news out of Washington.   
Farm Laborers Wage Board Recommends 40-Hour Threshold
Using authority granted by the Legislature in 2019, the Farm Laborers Wage Board recommended a 40 hour/week overtime threshold for farm workers, a significant policy shift that would send shockwaves through New York's agricultural industry. The Hochul Administration will need to approve or deny the recommendation within 45 days.  
New Gun Laws Take Effect
A gun control package passed by the New York State Legislature earlier this year went into effect on September 1. Learn more about this package here. 
Concealed carry by permitholders is largely banned in public places, unless the establishment has expressly granted permission for concealed carry on premises. The Niagara County Sheriff is offering signs for businesses that wish to allow concealed carry. Niagara County property owners can request signs here.  
Application Open
for Retail Cannabis License
The New York State Office of Cannabis Management has begun accepting applications for Conditional Adult-Use Retail Dispensary (CAURD) licenses. Learn more about the process and application on our blog.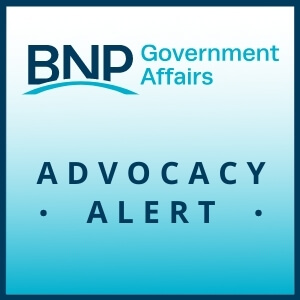 Blog Back to Our Blog Blog Categories This month, a new law regarding pay transparency will take effect in New York. All employers should prepare to comply with this law. Get answers to frequently asked questions below. What does the law require? The law requires employers to disclose the compensation (salary or wage) or range of compensation…