8.12.22 Advocacy Alert: Cannabis Dispensary License Application Opening 8/25
The New York State Office of Cannabis Management announced that it will begin accepting applications for Conditional Adult-Use Retail Dispensary (CAURD) licenses on August 25.  
To be eligible, an applicant must: 
Be "justice-involved," meaning he or she or a family member were previously convicted of a marijuana offense;

 
Have "qualifying business experience," meaning he or she operated any business that earned a net profit in two years. 

 

Have a "significant presence" in New York, meaning he or she has residency, assets, real property, a bank account, or some other connection to the state. 

 

Have sole control of the applying business.  

 
On the 25th, the application will be available on the New York State Business Express website. 
Applicants can have an interest in up to three dispensaries, but each dispensary needs its own license. Licenses are valid for two years.  If awarded a final CAURD license, the licensee does not need to begin operating immediately. Licensees will have 12 months from the final license award to begin retail operations.  Note that licensed adult-use cannabis cultivators and processors are prohibited from operating a dispensary. 
Last year, the BNP hosted a discussion with Canadian partners about their experience in the cannabis industry. View the event here.  
The Office of Cannabis Management's full list of frequently asked questions is available here. For more information, email licensing@ocm.ny.gov.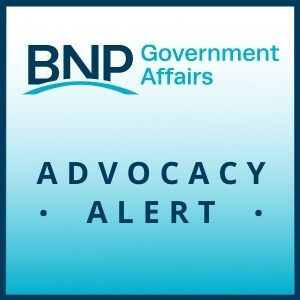 All eyes are on Albany as the Legislature enters the final two weeks of the 2023 legislative session. Amid the hundreds of bills that will pass in the coming days, the BNP is keeping an eye on the following issues: