Manufacturing Council Hosts: Overcoming Supply Chain Issues
Worldwide, companies throughout every business sector are dealing with significant supply chain challenges. The Buffalo Niagara region is certainly no exception. Increased costs, labor shortages, logistical breakdowns, and a host of other issues are impacting all aspects of the economy from manufacturer to customer. While no one has a crystal ball for the future, all businesses must be both strategic and creative, as we anticipate manufacturing and supplier delays.
On Thursday, July 14, the Buffalo Niagara Partnership Manufacturing Council convened for a virtual Q3 Meeting on the current supply chain and operations challenges that the Buffalo Niagara business community faces in rapidly changing markets.
The Manufacturing Council was fortunate to welcome the following panel for an insightful conversation on supply chain challenges and potential solutions for the Buffalo Niagara community:
Dr. Nallan Suresh,
Distinguished Professor
University at Buffalo
David Galante,
Vice President
Speed Global Services
Mike Durkin,
President
Cobey, Inc.
Jack Ampuja,
President
Supply Chain Optimizers
Watch the event to learn:
The biggest current challenges our region is facing with supply chains
How you can always be prepared to navigate continuous change in supply chains
The steps you can take to develop a long-term enterprise strategy
Ways the BNP is advocating for the Buffalo Niagara Manufacturing Community
Ways the BNP can assist your company with talent attraction and retention
Thank you to our Manufacturing Council Sponsors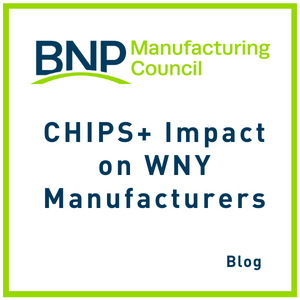 The federal CHIPS and Science Act of 2022, known as CHIPS+, was signed into law by President Biden on August 9, 2022. This new legislation directs $52 billion toward renewing the heavily outsourced U.S. semiconductor manufacturing sector and reinvigorating U.S. chip research and development activities.