2022 D&I Symposium: Meet Michele Mehaffy, Featured Speaker
The BNP is pleased to welcome MIchele Mehaffy – Community Relations & PR manager, Buffalo Division, Wegmans as a featured speaker at our 2022 D&I Symposium: DEI at Work.
We will be helping you get to know each presenter, panelist, and moderator in the weeks ahead, leading up to the 5th Annual D&I Symposium on June 16th – get your tickets here.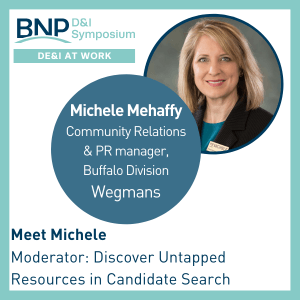 D&I Resources, Recommendations, & Inspiration
Person:  Michael Bush, CEO, Great Place to Work for All
Advice for someone starting, or continuing, on their D&I journey:
To create a culture of belonging, we want everyone to feel they are treated with the respect that all people deserve, all the time. They should feel that they are necessary to the company's success, that their ideas will be listened to, and their uniqueness will be valued.  That starts with listening.
Short Bio:   Michele Mehaffy serves as company spokesperson for 13 Wegmans stores in Buffalo and Erie, PA. She builds extensive community relationships, oversees strategic community investments based on the company giving priorities, and supports Wegmans customers and employees, and manages consumer communications.
Link to full bio or LinkedIn:
2022 D&I Symposium Speaking Topic: Discover Untapped Resources in Candidate Search
Respond to your recruitment needs in a way that you might not have considered.  Take an in-depth look at how you're the answer to filling those positions are right in front of you. Learn how to utilize the power of creating inclusivity by filling positions through developmental disability/refugee/reentry candidates.
This discussion will be moderated by: Michele Mehaffy, Buffalo Consumer Affairs Manager, Wegmans
The session will feature panelists:
Attend the 2022 D&I Symposium
Our 5th Annual Diversity & Inclusion Symposium will feature national experts on D&I sharing their knowledge on subjects such as building an inclusive culture, and the best practices, cultural assessments, and dimensions of diversity.
KEYNOTE: Melissa Donaldson, Chief Diversity Officer, Wintrust.
This event will feature workshops and break-out sessions with actionable next steps for attendees to take away.
Thursday, June 16, 2022
9:30 a.m. to 4:00 p.m. EDT


Register to Attend Here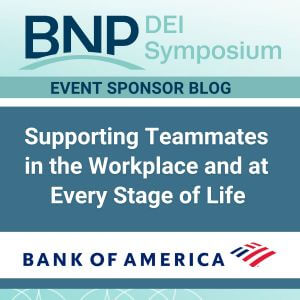 At Bank of America, investing in our teammates' wellness and professional development is the first step toward building a better Buffalo for all. By actively seeking out and empowering a diverse pipeline of talent and the next generation of leaders, we can help drive responsible growth both internally and in our local communities.