2022 D&I Symposium: Meet Ekua Mends-Aidoo , Featured Speaker
The BNP is pleased to welcome Ekua Mends-Aidoo, Chief Equity & Inclusion Officer for Evergreen Health as a featured speaker at our 2022 D&I Symposium: DEI at Work.
We will be helping you get to know each presenter, panelist, and moderator in the weeks ahead, leading up to the 5th Annual D&I Symposium on June 16th – get your tickets here.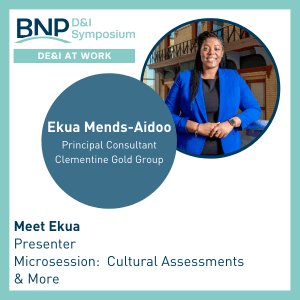 Bio:
Ekua Mends-Aidoo serves as the Chief Equity & Inclusion Officer for Evergreen Health. She has over 13 years of experience working with municipal government, non-profit and healthcare organizations. She has been responsible for implementing Evergreen Health's Three-Year Racial Equity Action Plan and Health Equity Taskforce. She also creates equitable policies, communications and programs that align with organizational strategic goals and vision, especially in diverse and underserved populations. She has been instrumental in shaping workplace cultures with an emphasis on maintaining employee engagement through strategic analytics and program design.
Mends-Aidoo is the Principal Consultant for Clementine Gold Group, a consulting firm specializing in diversity, equity, inclusion and community engagement. She has extensive management experience with a focus on creating effective teams. Building relationships with employees and advocating for equitable support and change is a major highlight of her work. A 2014 graduate of Leadership Buffalo's Rising Leaders, Mends-Aidoo is also a member of the Buffalo Urban League Young Professionals and the Emerging Philanthropists of Color.
Ekua earned a bachelor's in exercise science and health & wellness from the University at Buffalo and a master's degree in public administration from Hilbert College. Most recently Ekua earned a certification as a Cornell Certified Diversity Professional (CCDP) from Cornell's ILR School. In 2020, Ekua was recognized with Buffalo Business First's inaugural I.D.E.A Award (Inclusion, Diversity, Equity, Awareness) highlighting her work in the diversity and inclusion space. Originally from Syracuse, NY, she moved to Buffalo in 2004. To both practice self-care and increase her understanding of and respect for different cultures and life perspectives, Mends-Aidoo enjoys international travel.
2022 D&I Symposium Speaking Topic: Cultural Assessments & More
Learn about the importance of cultural audits/assessments, and how an organizational inclusion assessment will help understand where to start in your D&I work. 
Presenter: Ekua Mends-Aidoo, CDO Evergreen Health 
Beginning to Intermediate level
Ekua tells us a little about Cultural Assessment in this video.
Attend the 2022 D&I Symposium
Our 5th Annual Diversity & Inclusion Symposium will feature national experts on D&I sharing their knowledge on subjects such as building an inclusive culture, and the best practices, cultural assessments, and dimensions of diversity.
KEYNOTE: Melissa Donaldson, Chief Diversity Officer, Wintrust.
This event will feature workshops and break-out sessions with actionable next steps for attendees to take away.
Thursday, June 16, 2022
9.30 a.m. to 4:00 p.m. EDT


Register to Attend Here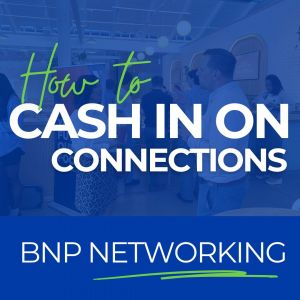 Whether you're an entrepreneur, a seasoned executive, or a budding professional, networking plays a pivotal role in your career growth. At the BNP, we understand the significance of forging meaningful connections, which is why we're excited to share the numerous benefits of networking with our members.