2022 D&I Symposium: Melissa Donaldson – Keynote Sneak Peek
The BNP is pleased to welcome Melissa Donaldson as the Keynote speaker at our 2022 D&I Symposium: DEI at Work. 
Below, learn more about Melissa and get a sneak peek at the not to be missed keynote address: Let Inclusion Be Your Guide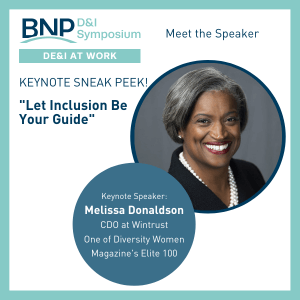 Meet Melissa Donaldson, Chief Diversity Officer (CDO) at Wintrust where she is the first to hold that position.  Melissa says she "has a heart for human capital" and actively creates opportunities for building Diversity & Inclusion opportunities for executives and minorities.  Her work was recently recognized by Diversity Woman Magazine when she was included on their Elite 100 list. 
 Melissa was one of the presenters at the 2021 D&I Symposium where her presentation was ranked # 1 by attendees.  Take a look at highlights of that presentation here. 
 We are thrilled to have Melissa present our 2022 Keynote address: Let Inclusion Be Your Guide. 
Inclusion, as represented by the "I" in the "DEI" acronym, may come last, but it is an essential part of the puzzle — and the value proposition for employees. This is especially true in the wake of the pandemic and during the so-called Great Resignation… (Gartner 2022).
To understand the value of inclusion, think of it as a strategy that brings together and harnesses diverse forces and resources in a way that is beneficial. Inclusion puts the concept and practice of diversity into action by creating an environment of involvement, respect, and connection—where the richness of ideas, backgrounds, and perspectives are harnessed to create business value and overall success.
The" I" at the beginning of inclusion, also sparks many other "I" outcomes such as inspiration, innovation, impassioned.
Are you Intrigued? Don't miss this inspirational keynote address!  
Why not consider purchasing a corporate pass to allow your entire team to experience Melissa and so much more? You and an unlimited number of employees can easily attend the Symposium via the Corporate Pass. This is a great opportunity to experience 10 micro-learning sessions and best practices. Save time and money by registering by June 3.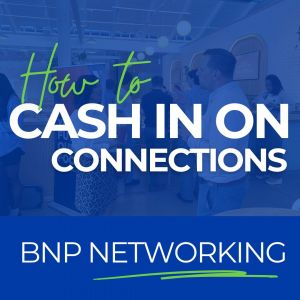 Whether you're an entrepreneur, a seasoned executive, or a budding professional, networking plays a pivotal role in your career growth. At the BNP, we understand the significance of forging meaningful connections, which is why we're excited to share the numerous benefits of networking with our members.
Read More