Manufacturing Council Hosts: Employer Liability Protection
The Manufacturing Council hosted a virtual meeting for all local employers, especially in the manufacturing sector, who are concerned about facility safety standards and employee safety in an ever-changing business and regulatory climate.
The event was presented by Bond, Schoeneck and King, PLLC, and focused on protecting the future of your company while meeting governmental regulations and safety protocols.
Watch the presentation below to get detailed insight on:
Phased reopening requirements and compliance with New York State's interim safety guidance.
COVID-19's impact on state and federal paid sick leave.
Protection from third-party and employee liability.
PRESENTED BY:
Thank you to the Manufacturing Council Sponsors
TITLE SPONSOR: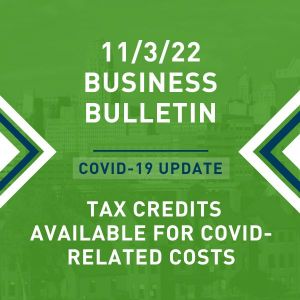 Small businesses can now apply for a new tax credit to help offset COVID-19 costs. The $250 million COVID-19 Capital Costs Tax Credit Program will cover up to 50% of eligible expenses, for a maximum benefit of $25,000.