Staff Spotlight: Meet Michelle Braswell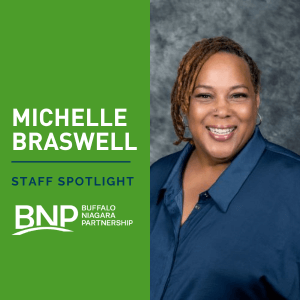 We are pleased to introduce Michelle Braswell, BNP's Manager, Events & Programs as our latest Staff Spotlight.
Michelle's role is to create, coordinate, and manage events and programs both virtually and in person.
Learn a little bit more about Michelle in this brief Q&A. 
Q: What is your background in/what type of work were you in before the Partnership?
A: I have worked in arts and entertainment for 25+ years, which included event management and operations.  Career highlights include Assistant General Manager for the world-class Tutankhamun, The Golden King and the Great Pharaohs. This traveling museum exhibition sold out in 7 venues across the country. I continue to invest in my WNY community by serving on the Board of Directors for Arts Services Inc. and various event management projects.
Q: How did your past experience prepare you for your current role at the Partnership?
A: My clients and colleagues have come from various industries, cultures and backgrounds.  I have learned to effectively communicate with anyone and transform their concepts into tangible events with successful execution.
Q: Tell us a little-known fact about yourself.
A: I love to read and write poetry.
Q: What do you like to do for fun
A: Travel.  Go to estate sales.
Q: Best Buffalo Hidden Gem.
A: The Buffalo Museum of Science rooftop, Kellog Observatory, and Solar telescope!
Q: What is your favorite part about living in Buffalo?
A: You never meet a stranger. "You know someone who knows someone"
Q: What are you doing differently post-pandemic that you didn't do before?
A: Keeping in touch with long-distance friends and family more.  Life is short, reach out as much as you can.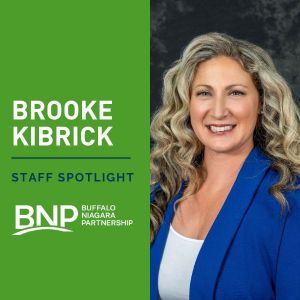 We are pleased to welcome Brooke Kibrick, Director of Events & Programs, as our latest Staff Spotlight.