2022 D&I Symposium: Meet Glenn Jackson, featured Speaker
The BNP is pleased to welcome Glenn Jackson, Chief Diversity Officer, M&T Bank as a featured speaker at our 2022 D&I Symposium: DEI at Work.
We will be helping you get to know each presenter, panelist, and moderator in the weeks ahead, leading up to the 5th Annual D&I Symposium on June 16th – get your tickets here.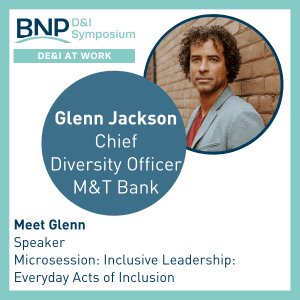 POSITION
Glenn Jackson is the Chief Diversity Officer of Diversity Equity & Inclusion for Human Resources at M&T.  As Chief Diversity Officer, Glenn is responsible for advancing M&T's efforts in promoting diversity equity & inclusion for all colleagues across the company.
BACKGROUND
Glenn joined M&T in 1999 as a participant in the Management Development Program. He held positions in Finance, Treasury and Retail divisions before joining Buffalo Promise Neighborhood as the Chief Operating Officer and Senior Director of Programs of Buffalo Promise Neighborhood, a comprehensive school-based initiative led by M&T Bank.
EDUCATION
Glenn earned a bachelor's degree in Economics from Harvard University.
AFFILIATIONS
Glenn is a board member of the WNY Impact Investment Fund, is chair of Teach for America Buffalo and is a board member of the Community Foundation for Greater Buffalo and Project Play WNY. Glenn has most recently been appointed to the John R. Oishei Board of Directors.  In addition, Glenn was elected to the Lancaster Central School District Board of Education and hosts a bi-weekly radio show highlighting the key partnership between M&T Bank and the Western New York Community.
2022 D&I Symposium Speaking Topic: Inclusive Leadership: Everyday Acts of Inclusion
A gut check for leaders: Are you walking the walk or just talking the talk?  
Want your employees to see you as a "real" leader? 
Learn to create an environment for valuing the authenticity of all employees through the lens of your team.
Presenter: 
Glenn Jackson, 

Chief Diversity Officer, M&T Bank

 
Advanced level
Glenn talks about what attendees can take away from this session.
Attend the 2022 D&I Symposium
Our 5th Annual Diversity & Inclusion Symposium will feature national experts on D&I sharing their knowledge on subjects such as building an inclusive culture, and the best practices, cultural assessments, and dimensions of diversity.
KEYNOTE: Melissa Donaldson, Chief Diversity Officer, Wintrust.
This event will feature workshops and break-out sessions with actionable next steps for attendees to take away.
Thursday, June 16, 2022
9:30 a.m. to 4:00 p.m. EDT


Register to Attend Here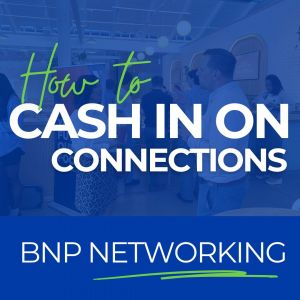 Whether you're an entrepreneur, a seasoned executive, or a budding professional, networking plays a pivotal role in your career growth. At the BNP, we understand the significance of forging meaningful connections, which is why we're excited to share the numerous benefits of networking with our members.