2022 D&I Symposium: Meet Karen Andolina Scott, Featured Speaker
 The BNP is pleased to welcome Karen M. Andolina Scott, Esq., MSW – CEO of Journey's End Refugee Services as a featured speaker at our 2022 D&I Symposium: DEI at Work.
We will be helping you get to know each presenter, panelist, and moderator in the weeks ahead, leading up to the 5th Annual D&I Symposium on June 16th – get your tickets here.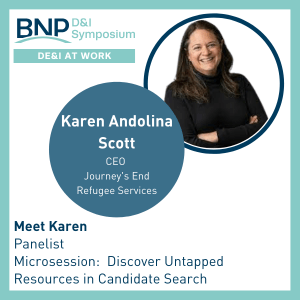 BIO:
Karen is the Chief Executive Officer of Journey's End Refugee Services in Buffalo, NY, where she acts as the key management leader of this refugee resettlement agency, whose mission is to welcome refugees without regard to ethnic origin or creed and to assist them to become healthy, independent, contributing members of the community. She is responsible for overseeing the administration, programs, and strategic plan of the agency, as well as fundraising, marketing, and community outreach. Karen received her M.S.W. from The University at Buffalo School of Social
Work (UBSSW) in May 2008 and her J.D. from The University at Buffalo Law School in May 2009 and is admitted to practice law in New York State.
Karen is an adjunct faculty member of UBSSW, focusing on macro social work, specifically the administration and management of nonprofits. She is a member of the New York State Bar Association, New York Immigration Coalition, the 8th Judicial District's Access to Justice Commission, and is a 2016 class member of Leadership Buffalo.
Karen is a previous recipient of the Women of Courage, Compassion & Commitment Award as presented by Buffalo Mayor Byron Brown, was named to Buffalo's Business First 40 Under 40 List in 2018, and in 2019 was named by the American City Business Journals as a National Influencer: Rising Star.
2022 D&I Symposium Speaking Topic: Discover Untapped Resources in Candidate Search
Respond to your recruitment needs in a way that you might not have considered.  Take an in-depth look at how you're the answer to filling those positions are right in front of you. Learn how to utilize the power of creating inclusivity by filling positions through developmental disability/refugee/reentry candidates.
This discussion will be moderated by: Michele Mehaffy, Buffalo Consumer Affairs Manager, Wegmans
The session will feature panelists:
Rhonda Frederick, 

CEO People Inc.

 

Karen Andolina Scott – 

Executive, Director

 

Journey's End 
Attend the 2022 D&I Symposium
Our 5th Annual Diversity & Inclusion Symposium will feature national experts on D&I sharing their knowledge on subjects such as building an inclusive culture, and the best practices, cultural assessments, and dimensions of diversity.
KEYNOTE: Melissa Donaldson, Chief Diversity Officer, Wintrust.
This event will feature workshops and break-out sessions with actionable next steps for attendees to take away.
Tuesday, June 16, 2022
9:30 a.m. to 4:00 p.m. EDT


Register to Attend Here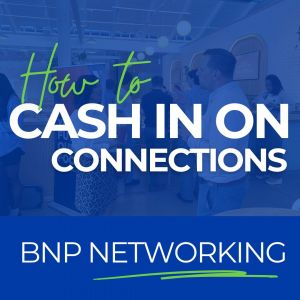 Whether you're an entrepreneur, a seasoned executive, or a budding professional, networking plays a pivotal role in your career growth. At the BNP, we understand the significance of forging meaningful connections, which is why we're excited to share the numerous benefits of networking with our members.