Introducing Vilona Trachtenberg, finalist for the 2022 ATHENA Young Professional Leadership Award
For more than 30 years, the Buffalo Niagara Partnership has been honored to produce the annual ATHENA Awards® to support, develop, and honor women leaders in Western New York.
The BNP is pleased to introduce you to the finalists who have been selected for the 2022 ATHENA® honors. This includes the ATHENA Leadership Award® and the ATHENA Young Professional Leadership Award® as well as the ATHENA Organizational Award® to recognize one for-profit organization and one non-profit organization that inspire women in WNY.
We will bring you profiles of each finalist in the weeks ahead, leading up to the awards event.  Come back often to read the profiles and you'll learn what it means to be an ATHENA.
Celebrate all of the finalists at the LIVE event on April 5, 2022 at the Buffalo Niagara Convention Center.
The Buffalo Niagara Partnership is pleased to introduce you to 1 of 10 finalists in the 
ATHENA Young Professional 
Leadership 
Award® category – Vilona Trachtenberg, Distribution Coordinator, New Era Cap. 
Meet
ATHENA Young Professional 
Leadership 
Award® Recipient: Vilona Trachtenberg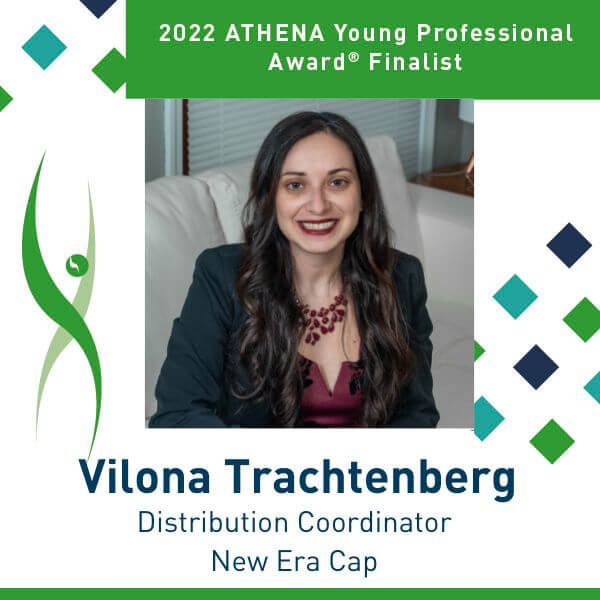 Vilona Trachtenberg is Distribution Coordinator at New Era Cap in Buffalo. In her role, she helps manage multiple production, receiving, and shipping operations for New Era's North America business, which includes shipping throughout the U.S., Canada, and to individual consumers.  
Vilona earned a Bachelor of Arts in Economics, Political Science, and Journalism from University at Buffalo, and an MBA from Canisius College. While at UB, Vilona wrote for UB's student-run publication, The Spectrum, and continues to also work as a freelance journalist for local and national publications including Buffalo Rising, The Jewish Journal, Hope Rises, The Blast, and The Sound Beat.  
 Over the past six years, Vilona has found a passion for community service and has collaborated with many nonprofits to further their missions. She is dedicated to helping her hometown flourish and loves working with arts and cultural organizations, children, people with special needs, and Holocaust survivors.  
First Job  
Vilona started her career as a customer service representative at Rich Products in Buffalo. 
Career Highlights 
Vilona says one of her biggest accomplishments so far has been receiving a "30 Under 30" award through Buffalo Business First.  
Best Piece of Advice Given Regarding Her Career 
If you don't ask, you don 't get. 
Advice to Give to a Woman Just Starting in the Workplace. 
 Make sure you take every opportunity in front of you to network, learn, and meet everyone you can. Be sure to attend workshops, attend professional development meetings, and make connections with those in the line of work you're trying to pursue. Every effort takes you closer to your goal and closer to finding where your true passions lie.  
About Being an ATHENA Finalist 
"I am very grateful to be a finalist for the ATHENA Award. The Buffalo Niagara region has no shortage of driven, selfless, and talented women, so having been nominated and selected is an honor. I'm very grateful to all those who have supported me in my career and life path and helped me become a finalist for this award." 
On Buffalo Niagara 
"Buffalo is a very close community with people open to helping each other in community service and professional realms. The professional organizations and those you meet through them are some of the kindest and most helpful people. After talking with these professionals, I always feel reinvigorated and continually reinforces that I'm on the path I'm meant to be on." 
Favorite Spot in Buffalo  
Wonder Coffeehouse 
Added Insights 
Guilty Pleasure:

Daily Iced Chai Lattes 

Superpower: 

Staying Positive

My Friends Describe Me As: 

Ambitious, Supportive

Yearbook Superlative:

Most Likely To Go On Tour

If I Could Swap Lives with Someone for a Day, I'd choose:

Ryan Seacrest
Checking in with Vilona, our 2022 recipient, in 2023:
"Being a 2022 ATHENA Young Professional Leadership Award recipient is still overwhelming to think about. I'm still beyond grateful for the honor and grateful for those I've met through the experience. This award has paved the way for me to reach more community members, continue my volunteerism, and further develop my leadership skills. It's one of my greatest life experiences."
Attend the 2022 ATHENA Awards® Luncheon
The ATHENA Awards® Luncheon is the region's most prestigious event recognizing the professional accomplishments of exceptional individuals who are dedicated to the advancement of women. Be there when the recipients are announced.
Tuesday, April 5, 2022
11:00 a.m. to 1:30 p.m.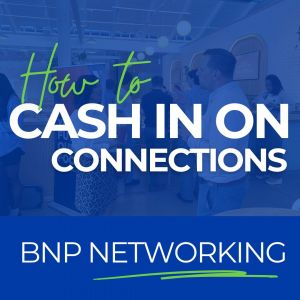 Whether you're an entrepreneur, a seasoned executive, or a budding professional, networking plays a pivotal role in your career growth. At the BNP, we understand the significance of forging meaningful connections, which is why we're excited to share the numerous benefits of networking with our members.