Staff Spotlight: Meet Josh Veronica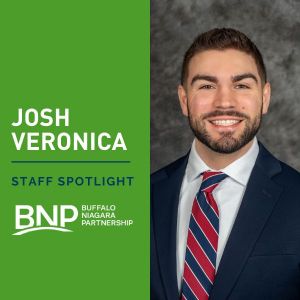 Josh Veronica is our Manager of Government Affairs and Economic Development.  
His role at the BNP is to keep members informed of relevant updates on local, state, and federal government and to understand the needs and concerns of employers in the region.   
Learn more about Josh in this brief Q&A
Q: Tell us a little-known fact about yourself.
A: When I was 14, I was the drummer for the Canisius College basketball team's pep band.   
Q: What do you like to do for fun?    
A: I like to try new restaurants, exercise, watch the Bills and Yankees, and take road trips. I also lead a team in a faith-based hockey league.   
Q: Best Buffalo Hidden Gem.     
A: Sanger Farms in Porter. They have great U-pick orchards, baked goods, and a new café, too. It's the perfect spot for a fall afternoon.   
Q: What is your favorite part about living in Buffalo?     
A: Most of my extended family still lives in Buffalo, so I appreciate being close to them. Buffalo is full of selfless, generous people that make the community strong. Also, Duff's.   
Q: What are you doing differently post-pandemic that you didn't do before?    
 A: Since we couldn't do much indoors during the pandemic, I began exploring our outdoor resources more. In 2020 I hiked or ran at 16 of the 19 parks in the Erie County system.  They are great, peaceful escapes and I continue to use them.  
Q: Since you are no longer commuting to work, how do you fill your drive time?    
 A: In the mornings, I have more time to cook a proper breakfast, pray, and center myself for the day. In the evenings, I read or walk to decompress. The additional time allows me to be more focused and alert during the day.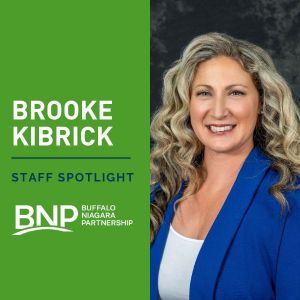 We are pleased to welcome Brooke Kibrick, Director of Events & Programs, as our latest Staff Spotlight.