Webisode: COVID-19 Federal Stimulus Details & The Business Impact
President Trump and Congress have passed a massive $2 trillion stimulus package in the wake of the COVID-19 pandemic that is devastating large segments of the United States economy.
The Partnership organized a webisode with the U.S. Chamber of Commerce to breakdown the stimulus package and help employers better understand what's included to help your business, your employees, and the Buffalo Niagara economy recover in the long run.
Watch the webisode below and hear directly from the experts at the US Chamber of Commerce.
As the regional chamber of commerce, the Buffalo Niagara Partnership is committed to providing employers with the latest information and resources to help deal with COVID-19 and its impact on business, our community, state, and nation.
We will continue to follow up as more information becomes available. Given the fluidity of this situation, please feel free to reach out to us with questions at connect@thepartnership.org and even more importantly, if you are willing to share best practices.
Thank You Again to the Chamber for Its Expertise: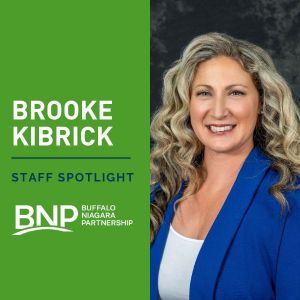 We are pleased to welcome Brooke Kibrick, Director of Events & Programs, as our latest Staff Spotlight.