Started in 2015, the Community Coalition, (formerly known as the Employ Buffalo Niagara Coalition) is an employer-led initiative that brings the private and public sectors, education and training partners, and workforce intermediaries together to share their employment challenges, and find solutions that address barriers to economic mobility for the under and unemployed in our region.
The Community Coalition is focused on three main areas:
Access and transportation to solve public transportation barriers, ride-sharing for first/last-mile needs, and employer pooling costs of shared private transportation.
Career awareness to better educate job seekers, reduce high turnover costs for employers and improve our Career Pathways initiative. 
Public and private workforce resources to improve employment systems we've developed 2 tools:

The Benefits Cliff Calculator—a tool to provide employers with a full view of the impact their compensation and promotion practices are making.
The HR Toolkit -- an interactive tool with vetted HR policies that are designed to retain employees and help them advance in your company.
The Community Coalition includes: 
716 Ministries
AFL-CIO
Bank of America
Basil Ford
Belmont Housing Resources for WNY, Inc.
BestSelf Behavioral Health, Inc.
Boys & Men of Color Initiative
Buffalo & Erie County Workforce Investment Board, Inc.
Buffalo Center for Arts and Technology
Buffalo City Mission
Buffalo Employment and Training Center
Buffalo Futures Hub
Buffalo Niagara Medical Campus, Inc.
Buffalo Niagara Partnership
Buffalo State, State University of New York
Buffalo Urban League
Catholic Charities of Buffalo
Center for Employment Opportunities
Charter Communications
Charter School for Applied Technologies
Cheektowaga Chamber of Commerce
Child Care Resource Network
Cicatelli Associated
City of Buffalo
City of Niagara Falls
Clarence High School
Community Action Organization of Western New York
Community Foundation for Greater Buffalo
Community Health Center of Buffalo, Inc.
Community Services for Every1
Diversified Labor Solutions (a division of the Cantalician Center)
Dove Transportation
Dupont Niagara
Erie 1 BOCES
Erie Community College
Erie County
Erie County Executive
Erie County Industrial Development Agency
Erie Niagara AHEC
Evergreen Health
Explore and More Ralph C. Wilson Jr. Children's Museum
Goodwill Industries of WNY, Inc.
Greater Buffalo Niagara Regional Transportation Council
Green Options Buffalo, Inc.
Transportation Council
Greater Rochester Chamber of Commerce
Huber Electric Inc.
Independent Health Corporation
International Brotherhood of Electrical Workers (Local 303)
International Institute of Buffalo
Invest Buffalo Niagara
Journey's End Refugee Services, Inc.
Key Resource Group
M&T Bank
McGard LLC
Medaille College
National Grid
Niagara County Community College
Niagara Frontier Transportation Authority
Niagara University
Northland Workforce Training Center
Northwest Bank
NYS Assembly 141st District
NYS DEC Region 9
NYS Senate 60th District
NYS Senate 61st District
NYS Senate 63rd District
OLV Charities, A Father Baker Legacy
Pegula Sports & Entertainment, LLC
Personal Computers, Inc.
Prentice Office Environments
Ralph C. Wilson, Jr. Foundation
Remedy Intelligent Staffing
S&T Bank
Say Yes Buffalo
Scherer Electric
Sealing Devices Inc.
Shea's Performing Arts Center
SoPark Corporation
TAM Ceramics
Tapecon, Inc.
TechBuffalo
Tesla
The John R. Oishei Foundation
The Service Collaborative of WNY, Inc.
Trocaire College
Try-It Distributing Co., Inc.
Unite Us
United Way of Buffalo & Erie County
Univera Healthcare
University at Buffalo
USA Niagara Chamber
VIA (Pathways for the Visually Impaired)
Wegmans Food Markets, Inc.
WNY Women's Foundation
Zehnder Rittling
The Coalition is managed by our Executive Committee who meet quarterly to address the full group's concerns and clear a path forward with solutions to Buffalo Niagara's systemic issues.
If you'd like to receive information on advancing economic mobility, learn about our progress on local employment efforts and stay informed about Coalition meetings or workshops, let's get in touch.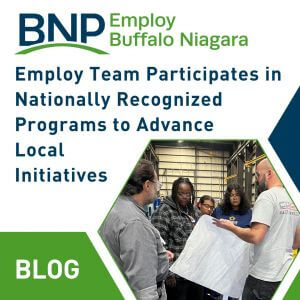 Buffalo Niagara Partnership (BNP) team members were selected to participate in two nationally recognized programs to advance Employ Buffalo Niagara and the chamber's workforce and talent initiatives.