As the regional chamber of commerce, the Buffalo Niagara Partnership is committed to providing employers with the latest information and resources to help you deal with COVID-19 and its impact on business, our community, state, and nation.





Paycheck Protection Program
Economic Injury Disaster Loans

Employee Health Screening
Health Insurance Coverage

Crisis Management & Planning
Business Continuity & Recovery Planning
Sourced Products/Services
Do you have specific questions related to running your business or your business unit?
Visit the BNP Business Link, a question and answer forum for, and by, the Buffalo Niagara business community. Submit your questions and get expert answers on just about any topic from legal, IT, HR, NYS regulations, sales, marketing, communications and more. It is quick, confidential, powerful and convenient. The BNP Business Link can help you today.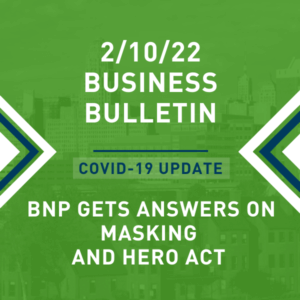 Yesterday, Governor Kathy Hochul announced she would repeal the state's mask mandate, effective today. However, her announcement did not proactively address how the repeal coincided with the NY HERO Act, which would have required employees in most workplaces to continue masking.