NY's Tax Climate Again Ranks at National Bottom
Today, the Tax Foundation (an independent tax policy think tank) released its 2022 State Business Tax Climate Index. The report compares all fifty states on various tax policies, then ranks their overall business tax climate. New York ranked below every state except New Jersey.
The poor ranking comes as no surprise. New York has oscillated between 48-50 for over ten years.  After enacting new tax increases this year, New York dropped from 48th to 49th.
The index assesses each state's Corporate Tax, Individual Income Tax, Sales Tax, Property Tax, and Unemployment Insurance Tax. Notably, New York ranked 50th – dead last – in Individual Income Tax.
It is also notable that New York ranked 36th for Unemployment Insurance taxes. Because NYS incurred billions in federal debt to keep solvent its UI fund during the pandemic, New York employers are about to face significant UI rate increases, meaning this ranking will likely worsen. The BNP has repeatedly urged Governor Hochul to take action to prevent these increases.
The full report is available here.
The BNP continues to advocate for tax policy that improves our region's business climate. To learn how, register for our 2022 Advocacy Agenda Rollout on January 13. Tickets are available here.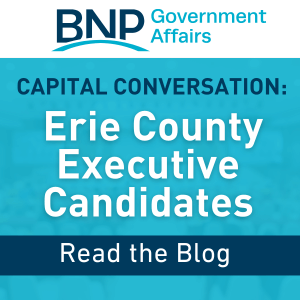 In preparation for the 2023 elections, the BNP hosted an Erie County Executive Candidate Forum. Both candidates for Erie County's highest office – incumbent Mark Poloncarz and challenger Chrissy Casilio – were given 45 minutes to address BNP members in a guided discussion.